Senior Yoga Teachers' Course
Yoga can help seniors live a significantly better quality of life. Join us for this special course on teaching yoga to seniors. A blend of adapted yoga asanas and in-depth lectures give a complete understanding of how to teach yoga to the elderly. Our sessions focus on a variety of methods adapted to specific needs and abilities. Age is a state of mind; by practising yoga, we can effectively manage the physical and psychological changes old age brings.
Who can benefit from this course?
Yoga teachers As a yoga teacher, in four days you will acquire a certificate to teach yoga to seniors.
Not only yoga teachers! Perhaps you practise yoga yourself and would like to help an elderly parent or grandparent at home who could benefit from a modified practice. Or you might be a senior citizen yourself, in which case this course is tailor-made for you.
The Teachers
Padmini Mathur, creator and presenter of the course, is an experienced yoga teacher and TTC graduate from Sivananda Dhanwantari Ashram. Her expertise lies in Senior Yoga.
Nataraj, Director of Sivananda Dhanwantari Ashram, is a qualified physician and senior yoga teacher. He will be a guest teacher on the course.
Pre-requisites
Upcoming Batches
4 consecutive days | 8 sessions  (twice a day) |
7th – 10th September 2020 | 11.00 – 13.00 & 15.00 – 17.00 IST hrs on Zoom
Donation : INR 3950 (~ 53USD)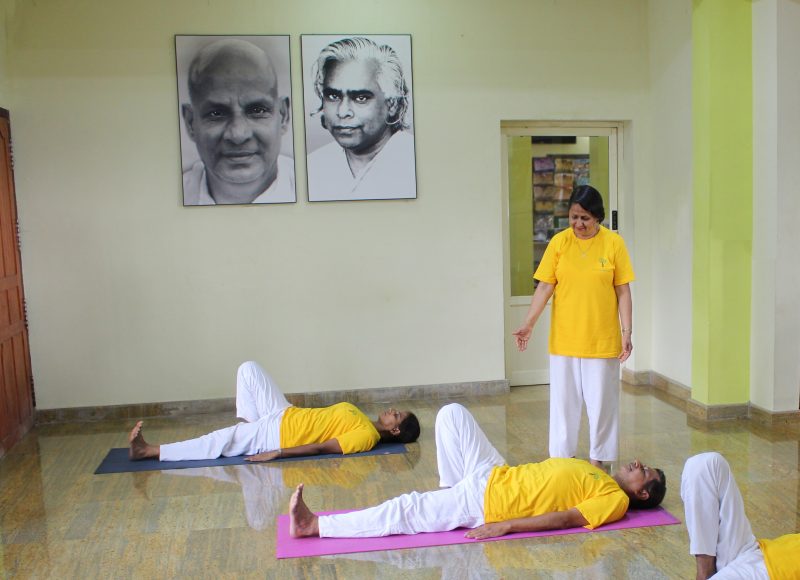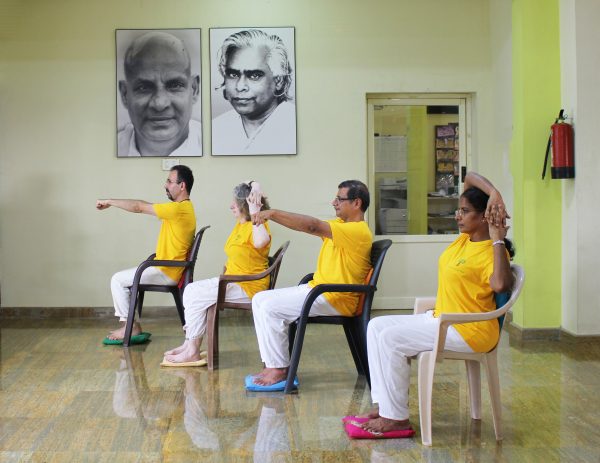 DAY 1 – Chair Yoga Theory and practical sessions on how to teach pranayama, Surya Namaskar and more using a chair as prop. The ageing process. Tips for teaching yoga to seniors and adapting the regular Sivananda Gentle Yoga class for seniors.
DAY 2 – Hypertension and Heart Yoga What is hypertension? How does age affect the cardiovascular and musculoskeletal systems? How yoga can benefit seniors with heart related, or back and knee issues.
DAY 3 – Other Body Systems & Mixed Yoga Old age affects functioning of respiratory, digestive and nervous systems, the senses and mental wellbeing. How to manage and adapt your class to seniors with mixed abilities.
DAY 4 – Practical Teaching Sessions Practical applications and demonstrations, and extended Q & A sessions to consolidate your learning.
The Programme 
Limited numbers to ensure individualised attention
Certificate issued on successful completion of the course
Course manual (pdf) sent to all registered participants in advance
8 classes over 4 days—11.00-13.00hrs and 15.00-17.00hrs IST
16 hours of instruction
Combination of theory, practical instruction and role plays
Please have the following available:
yoga mat
a chair with a straight back and arms
a sturdy table
two or three cushions
stable, high-speed internet connection as we will use video. Preferably a laptop or tablet (while smart phone will also work, a larger screen is helpful)