Ayurveda Wellness Course
Explore the wisdom of the ancient science of Ayurveda in the land of its origin
Please note the Dec 2022 – Jan 2023 AWC batch is for Japanese students only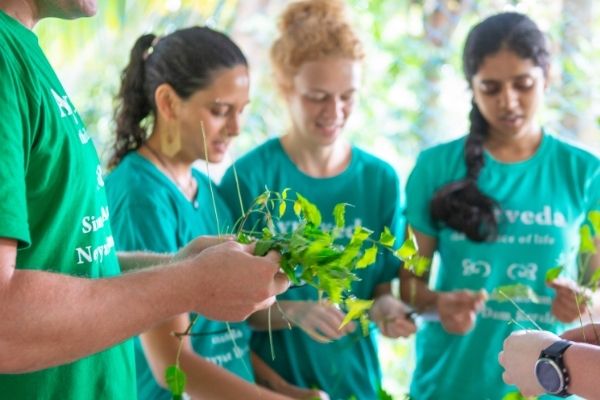 This informative and instructive two-week intensive course will give you an excellent grounding in the principles of Ayurveda.
Learn to apply the fundamentals of ayurvedic theory and simple therapeutic medicinal and massage treatments. Hands-on practical workshops give you the opportunity to prepare home remedies and apply ayurvedic nutrition principles to cooking. You will look at how to develop a preventative lifestyle where consideration is given to age, seasons, and climate and will gain invaluable insight into how to change your life-style habits for better health. You will take home a broadened and expanded outlook on how to create a lifestyle based on good health and mental well-being, both for yourself and family and friends.
At the end of the two weeks, a written test of learning is conducted and a certificate of participation is presented.
.
The course is held within the Sivananda Yoga Vedanta Dhanwantari Ashram in the Sivananda Institue of Health (SIH) and you experience the peace and healing environment of a place of sacred learning. Yoga classes and satsang (meditation and chanting) sessions are an integral part of the course.
The course is directed by Dr P. R. Vishnu, BAMS, MD, resident doctor at the Sivananda Institute of Health, supported by a team of assistants and massage therapists.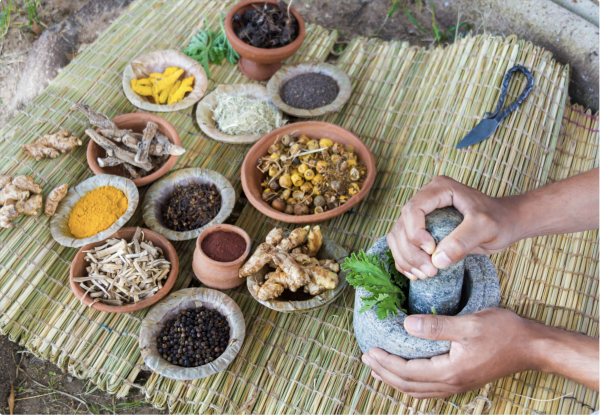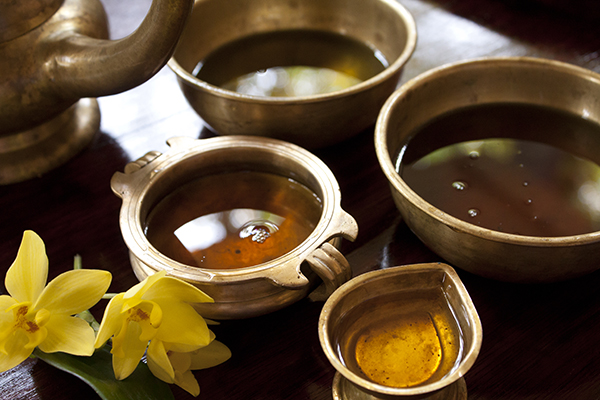 A large part of the Ayurvedic system of healing is directed towards purifying the body. Ayurveda's aim is to re-establish the innate balance of a body's different elements. To this end you study the following topics:
History and fundamental principles of Ayurveda
Tridosha theory
Introduction to the dhatus, the gunas, shad rasa
Understanding prakriti, the mind-body constitution
Seasonal and daily routine
Dietetics and cooking in Ayurveda
Treatment principles
Introduction to Panchakarma and massage therapy
Concept of mind in Ayurveda
Preparation of home remedies
Practical sessions in:

Ayurvedic cooking
Preparation of home remedies
Ayurvedic massage – basic points
| | |
| --- | --- |
| 5.20am | Wake up |
| 6am | Satsang |
| 7.30am | Tea |
| 8am | Asana Class |
| 10am | Brunch |
| 11am | Karma Yoga |
| 12pm | Ayurveda Lecture |
| 1.30pm | Tea |
| 2pm | Ayurveda Lecture |
| 4pm | Ayurveda workshop/practicals |
| 6pm | Dinner |
| 8pm | Satsang |
| 10.30pm | Lights out |
Attendance of the entire daily schedule is mandatory. There are no days off during the couse, however there will be a field trip providing opportunity to experience some of the surrounding area and local culture.
The Ashram offers five simple and functional types of accommodation. There are no single rooms.
Vaikuntam Rooms: Shared AC twin rooms with private bathroom (hot water), kettle and fridge
Kailash Rooms: Shared non-AC twin rooms with private bathroom (hot water)
Vishnu Rooms: Shared non-AC twin rooms with common bathrooms (cold water only)
Dormitory: separate for men and women. Dormitories contain up to 32 beds with two-bedded cubicles. Limited solar heated water is available.
Tent space: you are required to bring your own tent and mattress. Shared tent area bathrooms are with cold water only.
For all accommodation two bed sheets, pillow, pillow case, and mosquito net are provided.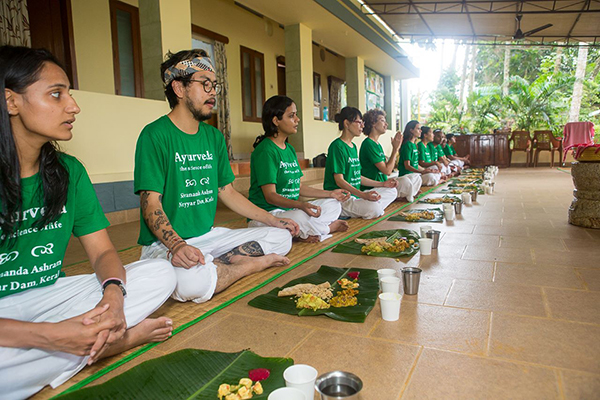 Two sets of uniform and a text book are provided as a part of the course material and are included in the course fee.
Things to bring – comfortable clothes, sandals, toiletries, personal items, meditation shawl for cool evenings, yoga asana mat, meditation cushion, notebooks, pens, towels, water bottle and torch. You can also purchase these items at the ashram boutique.
Guests should be familiar with the Ashram Rules & Guidelines before their arrival.
Simple Indian vegetarian meals are provided at 10am and 6pm.
For Domestic Payments:

For cancelling the registration before the start of the course, the original payment will be refunded less 6.5%.
Once the course starts, if the student decides to leave within three days original payment will be refunded less 18%.For

Overseas Payments:

As refunds will be via international bank transfer, the cancellation fee has to be higher.
The advance payment of partial course fee, service fee and taxes paid to GetOnYoga Pvt. Ltd. are fully nonrefundable in the case of cancellation prior to the course starting.
Once the course starts, if the student decides to leave within three days of course start date, the course fee paid will be refunded less 25%.
It may take six months to process,

After three days into the course no refund will be issued.
Students leaving the course before completion, are required to return manual and uniforms.
A full refund of the course fee paid will only be granted where SYVC has had to cancel the programme.
It is advised to ensure receipt of appropriate visa is possible before registering or booking flights. 
Revised 20-09-2023             SYVDA reserves the right to make changes without advanced notice.