Programmes
Expand your knowledge of the science of Yoga through workshops on many interesting and uplifting topics, from perfecting your headstand, to asana and pranayama, meditation, diet and vegetarian cooking, Ayurveda, philosophy and psychology, and more. These workshops offer the chance to explore brand new topics or dive deeper into a special area of interest in a comfortable environment and with experienced teachers.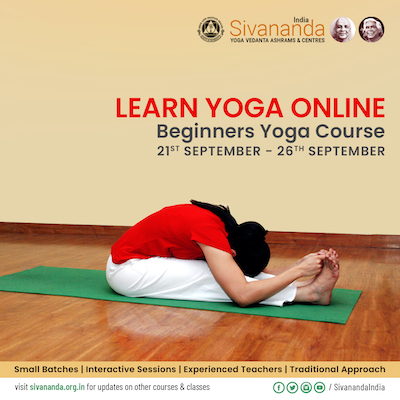 Beginners Yoga Course
Classical Hatha Yoga: Come away with a firm foundation in hatha yoga
rooted in the Sivananda Yoga tradition.
Experienced Teachers: Our Sivananda-trained teachers have many years of
experience teaching both on and offline. Our approach is gentle and holistic.
Individual attention: We restrict our class sizes to offer you individualised
attention during each class and each step of the way.
Part 1
Step-by-step guidance building up gradually to the dynamic sun salutation
and nine classical hatha yoga postures.
Part 2
Develop strength and flexibility, advancing in the postures and adding
additional ones. New breathing techniques are introduced.
For more details, visit sivananda.org.in/new-to-yoga
.
.
.
#OnlineYoga #SivanandaYoga #BeginnersYoga #SivanandaIndia #HathaYoga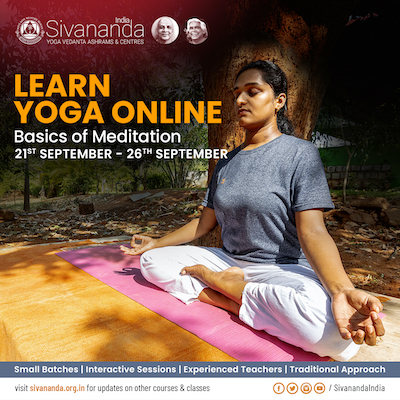 Meditation Course
Experience emotional balance, peace of mind and joy. Learn the techniques
of meditation and establish a daily practice that will benefit you for the rest of
your life.
guided meditation

how to set up a home practice

anuloma viloma & kapalabathi breathing techniques

tratak, japa and likhita japa concentration practices to help you meditate

the concept of a spiritual diary to keep you on track

small classes with individualised attention from experienced teachers
For more details, visit sivananda.org.in/meditation-positive-lifestyle/.
.
.
#OnlineYoga #SivanandaYoga #Yoga #Meditation #OnlineMeditation #SivanandaYoga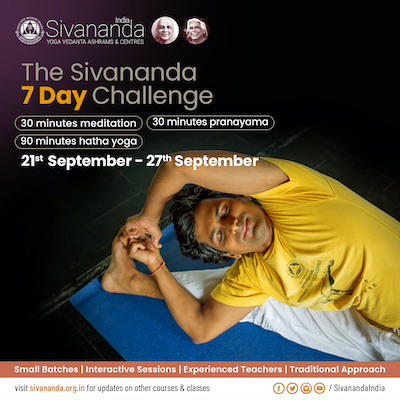 7day Challenge
Build a dynamic and advanced practice in just one week! Get inspired as the level of intensity increases each day. Invigorating, energising and compelling. For those who thrive on challenges. 30 minutes of meditation |  30 minutes pranayama | 90 minutes hatha yoga
For more details, visit sivananda.org.in/intermediate-beyond/#_7dayyogachallenge
.
.
#OnlineYoga #SivanandaYoga #Yoga #Meditation #OnlineMeditation #SivanandaYoga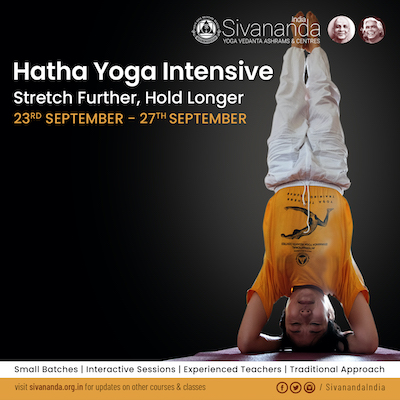 HATHA YOGA INTENSIVE 
5 days, 5 special asana workshops.
Intensify your hatha yoga asana practice while challenging and strengthening yourself. Go deeper into the basic asanas with advanced variations, including hip opening and deep stretches, backward bends, twisting postures, balancing and forward bending asanas. A course for intermediate or advanced level practitioners.
For more details, visit https://sivananda.org.in/intermediate-beyond/#_hathaintensive
.
.
#OnlineYoga #SivanandaYoga #IntermediateYoga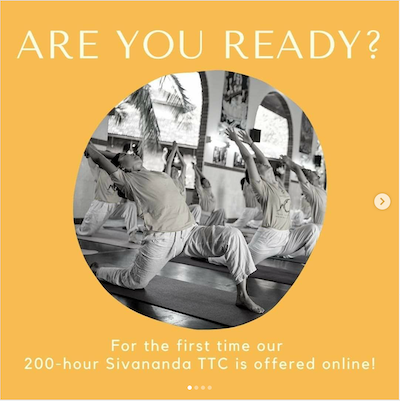 Sivananda Online Yoga Classes, Courses & Workshops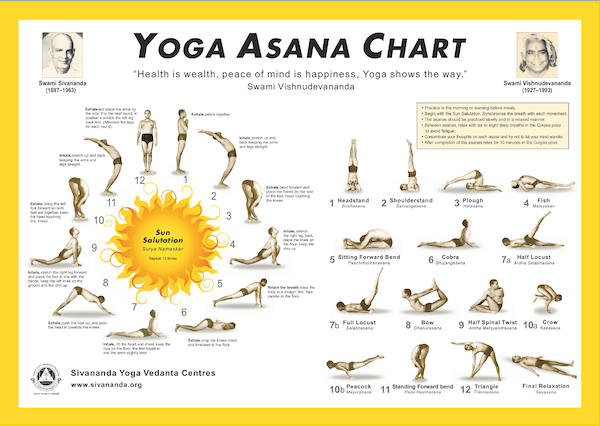 Fit and healthy? 108 sun salutations guided each step of the way by an experienced Sivananda teacher. Join in for 10, 20 or 30….A spiritual and physical energiser and great fun for all the family.
Every Sunday
Donation : Free class. Donations welcome!
re-requisites
Intermediate and advanced
Upcoming Batches
(timings are in IST, GMT + 5.30 hrs)