Workshops
Expand your knowledge of the science of Yoga through workshops on many interesting and uplifting topics, from perfecting your headstand, to asana and pranayama, meditation, diet and vegetarian cooking, Ayurveda, philosophy and psychology, and more. These workshops offer the chance to explore brand new topics or dive deeper into a special area of interest in a comfortable environment and with experienced teachers.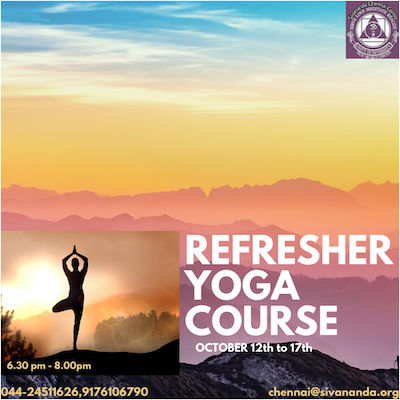 Refresher Yoga Course
Taken long or short yoga break ?
Longing to learn the International Sivananda Style of Yoga Sequence?
Join us for Refresher yoga course.
Register Today…..
October 12th to 17th, 6:30pm-8:00pm
📱+91 91761 06790
✉️ [email protected]
☎️ 04424511626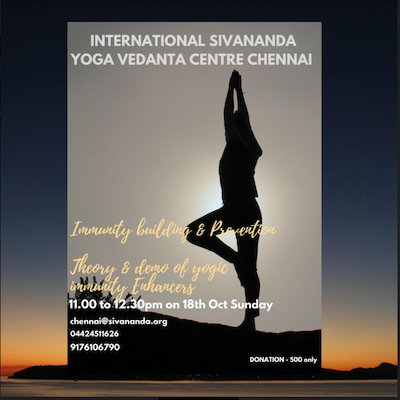 Immunity building &  Prevention
Immunity building the yogic way theory & demo of related asanas.
October 18th 11am to 12.30 Sunday . Donation : 500rs.
25th Sunday 11 to 1.30 pm .Theory, demo & practice. Donation: 750rs.
📱+91 91761 06790
✉️ [email protected]
☎️ 04424511626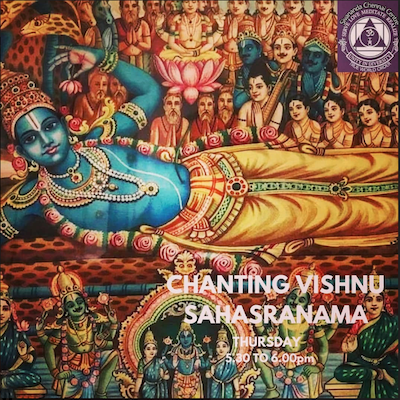 Vishnu Sahasranama Chanting
Join to Chant " Vishnu Sahasara Nama" Every Thursday Evening 5:30pm-6:00pm at the Chennai Centre !!