Kids' Camp
The discipline of yoga and the fun of a summer camp
Dear Parent, please your child's name, date of birth etc. when completing the registration!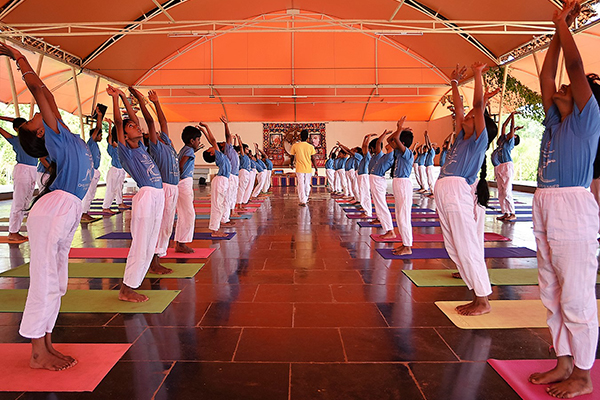 With the increasing pressures from society, including from school and from social media, children more than ever need a foundation of strength and understanding to successfully navigate the world. There is no better way than to instil in their lives the ancient traditional teachings of India. Many of our children return again and again each year and we watch them mature into fully-rounded adults.
What better way to give your child an opportunity to learn new life-enhancing skills as well as be in a joyful environment than our Yoga Summer Kids' Camp in south India. Your child will have fun with new friends and discover new interests. Open to kids between 7-11 years, it is a unique and exciting way for your child to spend the summer.
.
The children are never bored. They are encouraged to explore every aspect of their lives, physical, mental and spiritual. Children learn the practice of yoga, how to meditate (sit quietly for the younger ones!) and just as importantly through a wide-range of activities to share, to give, to have compassion, to broaden their minds, and to develop discipline. They learn the value of karma yoga (selfless service) as they help to maintain the Ashram with their daily tasks. A certificate of participation is issued on completion of the course.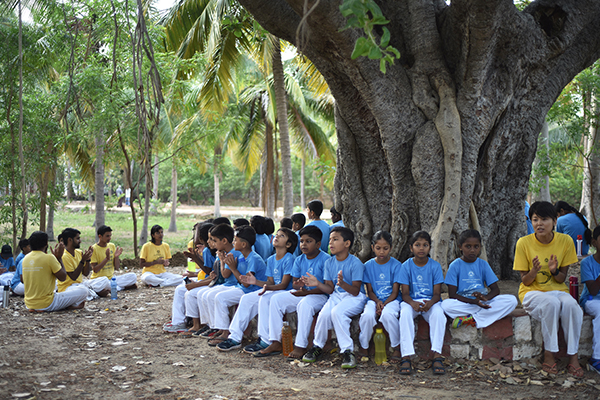 We are not holding this program this year in Neyyar Dam.
Please check the
India page
for this program at our other ashrams.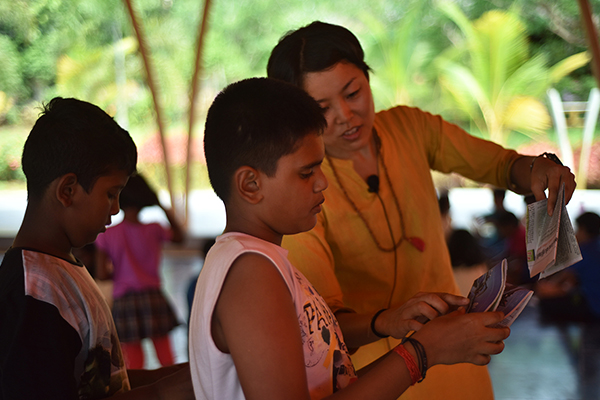 Every day the children have one yoga class. It is fun as well as educational, and our teachers are skilled at keeping the attention of the children as well as instilling the discipline of the yoga. Satsang, where the children meditate, chant devotional Sanskrit bhajans and listen to a short talk is an integral part of the morning and evening programme.
Arts and creative classes, outdoor games, indoor games, and workshops with special guest teachers are all part of the Camp, as well as organised day trips to local places of interest. A quiet time at the end of each day gives the child the opportunity to read, to write home or just to reflect on the day. Meals are vegetarian and snacks are provided during the day.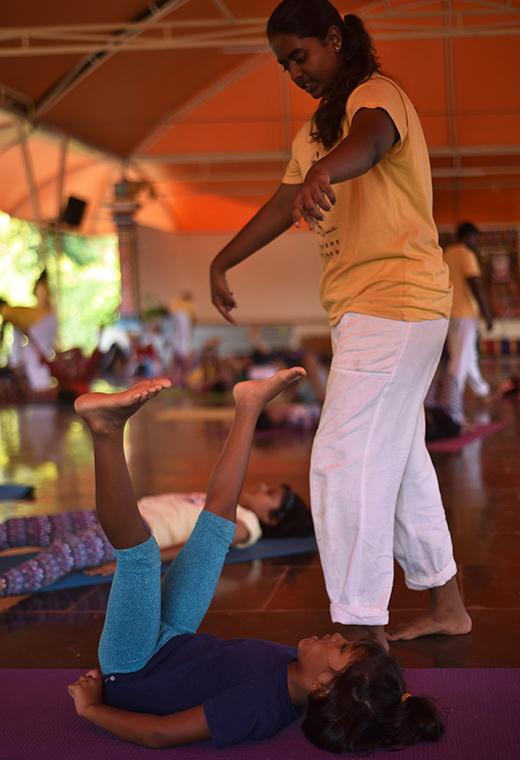 | | |
| --- | --- |
| 6am | Wake up |
| 6.30am | Satsang |
| 7.30am | Tea & Snacks |
| 8am | Hatha yoga class |
| 10am | Brunch |
| 11am | Karma Yoga |
| 12pm | Bhagavad Gita lecture or chanting class |
| 1.30pm | Tea & Snacks |
| 2pm | Arts & creativity / workshop / discussions |
| 4pm | Outdoor games |
| 6pm | Dinner |
| 7pm | Silent time – reading stories, writing home, likita japa etc. |
| 7.30pm | Satsang |
| 8.30pm | Happy assembly – indoor games |
| 9.30pm | Lights out |
Children stay in separate boys' and girls' dormitories supervised by counsellors.  The dormitories are simple and comfortable. Bathroom facilities have cold water only. Two sheets, pillow, pillowcase and mosquito net are provided.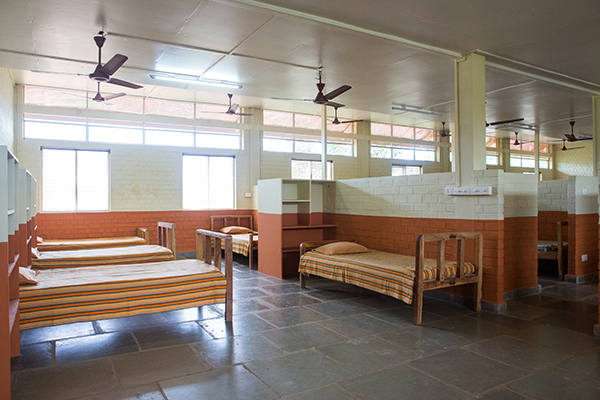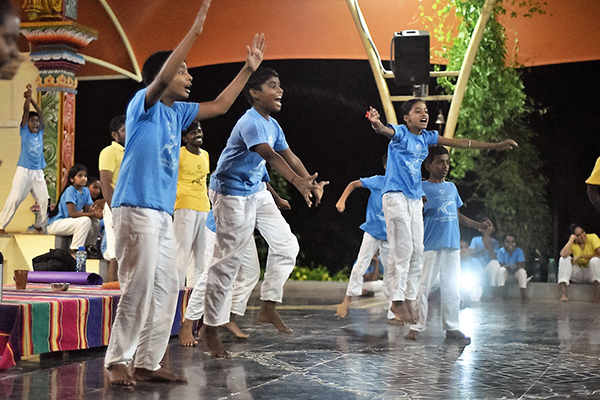 Children need to bring any medication they require, swimming costume, towel x 3, yoga asana clothes (loose pants & t-shirts), water bottle, note book, pen, torch with spare batteries, clothes for day trips and a passport size photograph.
Children are free to leave after graduation. Parents are invited to meet the staff on the day of graduation. Both children and parents are welcome to stay at the ashram on the night after graduation. Accommodation on the night of graduation is free of charge for both children and parents.
Children will not be admitted for partial stay, they must stay for the entire duration of two weeks.
Children are not allowed to receive or make phone calls during their stay.
Parents are not allowed to visit during Kids' Camp.
Ashram cannot be held responsible for any item of value.
No pocket money – but deposit can be left with the ashram.
Laundry service available free of cost.
Children are not allowed to bring the following items into the ashram: Walkmans, Ipods, radios, electronic games, mobile phones or teen magazines to maintain the serenity and atmosphere of the ashram.
For any further information or queries, please contact 

[email protected]
In view of possible difficulties with visas and flights, we recommend that you register only after visas and flights are certain.
For cancelling the registration before the start of the course, the original payment will be refunded less:

6.5% for Indians ie. INR payments.
USD 150 up until 3 months from the booking date for USD payments (all accommodations).
An additional USD 50 will be charged (USD refunds) where cancellation is after 3 months from the booking date (all accommodations).

Once the course starts, if the student decides to leave within five days, the original payment will be refunded less:

18% for Indians ie. INR payments.
USD 450 for USD payments (all accommodations)

After five days of the course, no refund will be issued.
Students leaving the course before completion are required to return all teaching materials and uniforms.
Full refund will only be granted where SYVC has had to cancel the programme.
Revised 1-12-2021