Ashram Information
Sivananda Kutir, Uttarkashi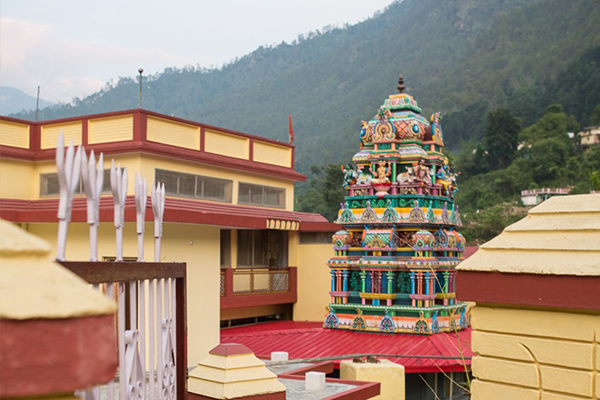 The Sivananda Kutir, part of the Sivananda Yoga Vedanta Centres and founded in 1991, is situated on the banks of the holy river Ganga, against the stunning backdrop of the majestic Himalayas. The Ashram is located in the small village of Netala, eight kilometres north of Uttarkashi. The high altitude and spectacular snow-clad Himalayan peaks provide the most perfect natural setting for the practice of yoga.
The area, called Devbhumi, meaning the 'Land of the Gods', is renowned for its exceptional natural beauty and revered for its sacred heritage, with a vast history of spiritual practice going back thousands of years. Here sages and saints throughout the ages have found solace, peace and inspiration.
There is a sense of a rare and timeless purity in the air, of heightened divinity. It is mentioned as a place of great sanctity in the great Indian epic, the Mahabharata.  The source of two of the holiest rivers in India the Ganga at Gangotri and Yamuna at Yamunotri, both highly revered pilgrimage sites are accessible from the Ashram. Their proximity adds to the atmosphere of exaltedness, both physical and spiritual.
Sivananda Kutir offers Teachers' Training Courses (TTC) and Sadhana Intensive courses from April to November each year.
Yoga Vacation programme will commence from May to September each year.
Prior and early booking is essential as the courses and yoga vacation fill quickly.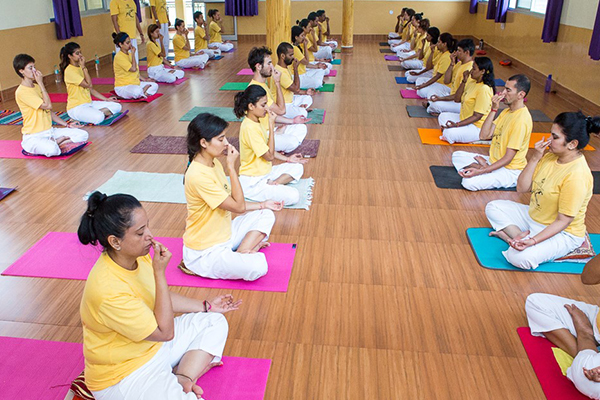 Our accommodation is simple and functional. The Ashram offers separate male and female dormitory and shared twin room accommodation (No single rooms). 2 bed sheets, a pillow, and pillow case are provided.
Dormitory: 4, 6, or 8 beds with adjacent shared bathrooms
Shared twin rooms: With attached private bathroom
Please Note: couples are not allowed to share twin rooms.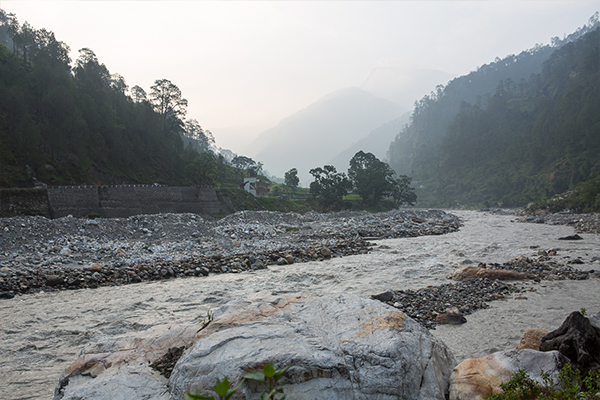 Check-in / Check-out: All guests check in and out at Reception upon arrival and departure. The check-in time is 2pm and check-out time is 11am. If you are leaving outside office hours (8am to 8pm), please check out the previous day. All  bedding to be returned before departure.
Meals: Simple, nutritious and tasty vegetarian food are served twice daily.
Drinking Water: Boiled, filtered water is freely available.
What to Bring: Comfortable clothes (layers), walking shoes, sandals, toiletries, personal items, meditation shawl for cool evenings, yoga mat, towels, water bottle and torch. Most essential items are usually available for purchase from our Ashram boutique.
Bringing Children to the Ashram: Unfortunately, at the moment we are unable to accommodate children. We hope to in the future.
Vaccinations: Check with your local health authority for advice regarding vaccinations for visiting India.
Passport & Visa Requirements: A visa is required from most countries to visit India. Foreign Nationals are required to bring their original passport with them.
Ashram Rules and Guidelines: To maintain the spiritual atmosphere we ask all students to comply with the Ashram rules. The Ashram reserves the right of admission and students may be asked to leave if their behaviour contravenes the Ashram's guidelines.
Please Note: The spoken and teaching language of the Ashram is English. The daily schedule times and activities may vary according to need.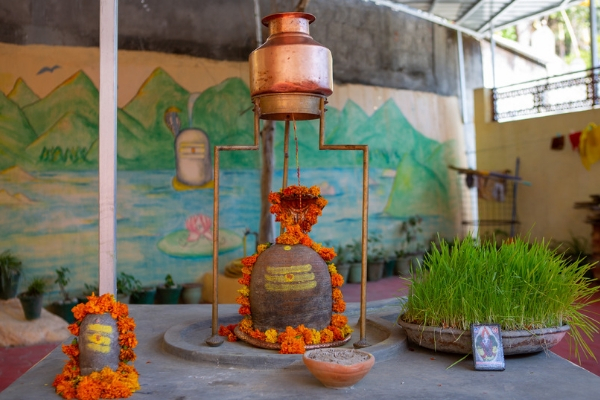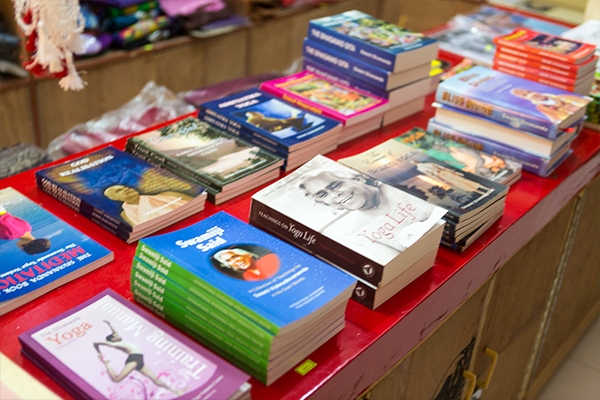 The facilities below are available at specific times only (please check with the office). All facilities are closed during classes, satsang and after 8pm.
Boutique: The boutique stocks most items needed during a stay at the Ashram as well as books, yoga mats, stationery, postcards, CDs and clothing.
Safe Keeping: Valuables may be stored in a locked safe in the Reception area.
Telephone: Outgoing calls are available depending on telephone line conditions. There is no facility for incoming calls.
Internet: Free Wi-Fi facility is available for guests outside class times. The timings are 10:30 – 13:30 and 18:30 – 19:30, and it is available all day on Friday. However, please note that the internet may not be very reliable due to terrain, weather conditions, etc.
Recycling: Any unwanted items, such as used clothing, medicine etc. may be left at Reception for distribution to those in need.
Our Ashram is an abode of peace and shelter from the pressures of worldly life. It provides a safe space for personal development and the pursuit of spiritual ideals. People come from many walks of life and from every corner of the world to experience the profound spirituality of ancient India, and the centuries-old disciplines of yoga, vedanta and ayurveda. Maintaining a positive spiritual atmosphere requires the involvement and participation of all guests and staff. In this regard we request your cooperation in observing the following rules and guidelines.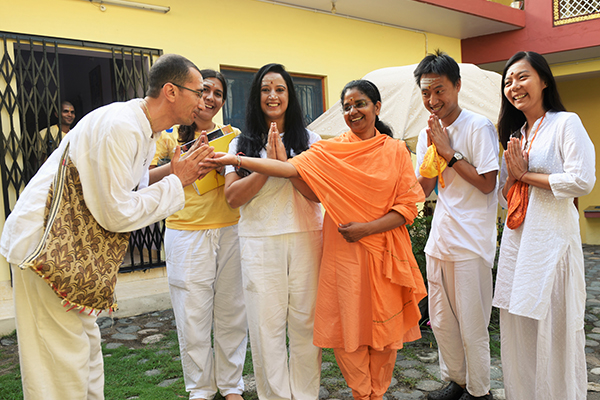 Dress Code:
Men and women must cover shoulders, midriff and legs. Tight fitting, transparent and revealing clothing are not permitted. This includes:
• Shorts above the knee • Leggings
• Low cut and sleeveless t-shirts • Tank tops
Guests' behaviour and dress code should be respectful of the local culture and enhance the spiritual atmosphere. Observance of the dress code should be maintained at all times including during asana classes.
Prohibited Items: Smoking, alcohol, drugs, meat, fish, eggs, garlic and onions are not allowed. The use of mobile phones is only permitted in designated areas outside of class times. Photography, video, audio recording during classes and ceremonies is only possible with the permission of the director. Pets are not allowed.
Male-Female Relations: To respect the local culture and the monastic tradition, kindly restrain expressions of affection such as hugging or kissing in public. Male and female dormitories are separate. Men are not allowed in the ladies' dormitory and vice versa. The Sivananda Yoga Vedanta Centre organisation of India disapproves of and condemns any form of harassment directed at students, staff or visitors.
Payments & Donations: Dates and donations are subject to change without notice. For all Courses students are subject to the suggested donation in effect at the time of payment. Personal cheques are not accepted. The Indian concessional rate does not apply to: non-resident Indians (NRI), Indian nationals working or living abroad, foreign nationals working or living in India, Overseas Citizen of India (OCI) and Person of Indian Origin (PIO). Indian nationals may be asked to provide evidence of Indian nationality.
Silence: Students are requested to observe silence during meals, before morning satsang and after evening satsang.  Lights out after 8pm.
Personal Belongings: We do not accept responsibility for personal belongings. Safe-keeping facilities are available.
Harassment Policy:  No harassment, proposals or innuendos with a sexual connotation will be tolerated during any programme or activity organised by the Ashram. Students participating in such programmes and activities are accordingly made aware of this policy and invited to apply it in their personal behaviour during their stay. Any guest or student who thinks he/she may be the victim of unsolicited advances or any other form of sexual harassment is asked to notify a senior Swami or director immediately in order for corrective action to be undertaken without delay. Complaints made to a senior Swami or director will be treated confidentially and the alleged violator or any third party will not be advised of the complainant's identity without the latter's consent.
Please plan ahead and allow sufficient travel time to reach the Ashram before 5.30pm. In the unavoidable event that you cannot reach the ashram before 5.30pm kindly phone ahead informing of your expected arrival time different from above.
The average road travel from Haridwar to Sivananda Kutir is eight hours without stops. Therefore plan to leave Haridwar before 9am. An overnight stay in Haridwar or Rishikesh may be necessary.
By Air
The nearest airport is Jolly Grant Airport, Dehradun. From here you can travel by car to Netala (8hours). Alternatively fly into Indira Gandhi International Airport, New Delhi. From here the most convenient and economical form of travel is by train as far as Haridwar Junction and then by road to Netala.
By Train: from New Delhi (NDLS) to Haridwar Junction (HW) Train information can be obtained via www.indianrail.gov.in. You are advised to book rail tickets as soon as you know your travel plans, either through a travel agent or on-line. Train e-tickets can be booked up to three months in advance via the internet. Trains are usually fully booked nearer to the time of travel.
The Dehradun Shatabdi Express (no. 2017) departing daily from New Delhi station (NDLS) at 6.50am and arriving at Haridwar Junction (HW) at 11.25am is recommended for same day travel to Netala.
Another option is the Mussoorie Express (4041) departing from Delhi station (DLI) daily at 9.05pm arriving at Haridwar Junction at 5.45am.
From Haridwar to Netala By Bus: There is a Bus Terminal opposite the Station in Haridwar. There are approximately three buses a day to Uttarkashi (7 hours travel). From Uttarkashi it is a further eight kilometres to Sivananda Kutir, Netala (near Siror Bridge) on the Gangotri road.
Please Note: Specifically ask for Sivananda Kutir (near Siror Bridge), Netala as there are several Sivananda ashrams in the Uttarkashi area.
Return Travel from Netala
You are advised to book your return train and flights in advance. Travel agency facilities in Uttarkashi are very limited. The nearest main booking agents are based in Rishikesh.
Students applying for any courses/programmes at the Ashram are required to sign the Liability Release Form.
Please click here to download the form.