Positive Thinking &  Lifestyle
Daily Study of the Bhagavad Gita
Just as the water stains not the lotus leaf, even so sins do not taint a person who is regular in the recitation of the Gita. Swami Sivananda
Daily study with chanting of the Bhagavad Gita by an experienced and devoted Sivananda teacher, Uma Natarajan. The Gita is an infinite ocean of wisdom. Its study transforms us into what the Gita is. It purifies our mind and brings inspiration, hope and encouragement to face our challenges teaching us to live fully in this world.
Donation : None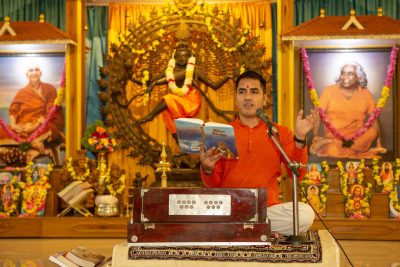 Note:
For any doubts/clarification
please contact the corresponding centre / ashram.
Certificate of Course Completion sent on request.
Please email [email protected]
Note:
The above free Open Class offering is made possible by the generosity of a kind British student who wishes to sponsor six months of free classes for those struggling financially.

A gift of 1,750 GBP has enabled 97 students who may not otherwise have access to daily yoga classes, to enjoy the many benefits of yoga online during a difficult time when many are unable to safely travel and remain restricted to their homes.
If you would like to sponsor yoga classes or a course of yoga (beginners, meditation, etc.) and provide a gift of the benefits of yoga to others during this time, please contact us to discuss possibilities: [email protected]