Positive Thinking &  Lifestyle
Bhakti Yoga – Open Your Heart!
Experience devotion in daily life.
An introduction to the path of Bhakti Yoga, awakening the divine love within you. Bhakti brings compassion, empathy and kindness into your life. Bhakti is love, it is our true essence – whether we express it towards others, ourselves or to God. Bhakti is universal and shows us the divine in all – breaking down illusions of separation between the individual and others.
In today's world, Bhakti is not about searching for love, but about recognising it within us in its purest form.
This special two-day course will touch upon:
Day 1 – What is Bhakti Yoga?
The types of Bhakti
The 9 elements of Bhakti Yoga
The 5 Bhavas
Day 2 – How to apply Bhakti Yoga in daily life? 
How can we develop Bhakti within?
How does Bhakti or devotion manifest in our lives?
How can Bhakti Bhava help us live a peaceful life?
How can we apply Bhakti to all that we do?
Presented by Swami Janardananda, direct disciple of Swami Vishnudevananda. For over two decades Swamiji has been engaged in mentoring children and young adults from local villages in Uttarkashi. Swamiji also guides the staff and students at the centres and ashrams of Sivananda India.
2 consecutive days | 2 sessions | 30 students / batch Donation : INR 750 (~ 10 USD)
Pre-requisites
Upcoming Batches
19th – 20th September | 16.00 – 17.30 hrs IST
Bhagavad Gita – Chapter by Chapter
An inspiring overview of the Bhagavad Gita, chapter by chapter, from an experienced and masterful teacher, Ravi Easwaran. A unique opportunity to acquaint yourself with the holy scripture, studying it from a general perspective.
1 day | 1 session every Saturday
Donation : None
Daily Study of the Bhagavad Gita
Just as the water stains not the lotus leaf, even so sins do not taint a person who is regular in the recitation of the Gita. Swami Sivananda
Daily study with chanting of the Bhagavad Gita by an experienced and devoted Sivananda teacher, Uma Natarajan. The Gita is an infinite ocean of wisdom. Its study transforms us into what the Gita is. It purifies our mind and brings inspiration, hope and encouragement to face our challenges teaching us to live fully in this world.
Donation : None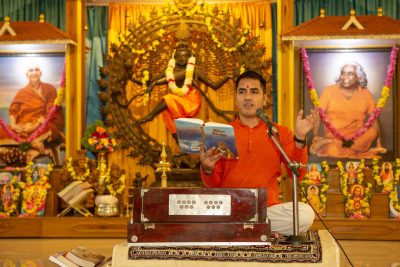 Note: For any doubts/clarification please email us [email protected] or call us + 91 49-542-69926
Certificate of Course Completion sent on request. Please email [email protected]