Himachal Pradesh Teachers' Training Course
We are expanding the Sivananda Yoga Teachers' Training Course (TTC) to the beautiful Shivalik foothills in Himachal Pradesh! The internationally-acclaimed four-week intensive residential programme will be conducted at Vrindavan Ayurveda Chikitsalayam spread across 25 acres with 500 acres of Forest range on one side. The location is full of spiritual energy with temples of Lord Krishna, Lord Dhanwantari and Goddess Kali. There is a Yagya shala, Gaushala and organic farming on-site. Apart from sprawling lawns and outdoor areas there is also an Ayurveda hospital facility by India's oldest Vaidyaratnam.
Learn yoga in a traditional setting immersed in the yogic lifestyle with our dedicated teachers!
Contact: [email protected] or Call/ Whatsapp:  +91 854 788 1801
The goal of the programme is to produce qualified and inspiring yoga teachers who are able to draw on their own practice and personal discipline in imparting the yoga experience to others. The curriculum is based on the five points of yoga as taught by Swami Vishnudevananda, which can be understood as the practical application of the traditional four paths of yoga. The intensive daily schedule includes:
• two satsangs • two asana classes • t​wo​ lectures • one hour of karma yoga​
One day a week is lecture-free.
Asanas
The twelve basic postures in depth
Practice of classical advanced variations
Precise and detailed corrections
Prolonged holding of the asanas
Deeper understanding of hatha yoga
Pranayama
Practice of kapalabhati
Daily practice of anuloma viloma
Advanced pranayamas
Use of bandhas
Meditation
Guide to meditation
What is meditation?
Why meditate?
Concentration and thought power
12-step daily practice
Effects of and experiences in meditation
Mantras
Mantra initiation (optional)
Yoga Anatomy and Physiology
Introduction to the eight major body systems
The effects of asanas and pranayama on the: cardiovascular, respiratory, digestive and skeletal and muscular systems
Yoga and physical culture
Yoga Nutrition
Vegetarianism for physical, mental and spiritual health
How diet affects the mind
Principles of nutrition
Healing effects of fasting
Kriyas
The six classical purification exercises for the eyes, nose, air passages, oesophagus and stomach, abdominal organs and large intestine. Explanation and demonstration of the exercises and their effects. Individual instruction.
• tratak • neti • kapalabhati • dhauti • nauli • basti
Teaching Practice
How to teach the 12 basic postures and breathing exercises to beginners and intermediate students
Setting up of a proper environment for class
General pointers on teaching a class
The Basic Sivananda Class
Beginners' course
Advanced postures
Yoga for children
Yoga for older citizens
Yoga for pregnancy
Relaxation
Detailed correction workshops
In the second half of the training course, participants will teach each other under the guidance of an experienced teacher.
Bhagavad Gita
One of the greatest spiritual texts of the world, the Bhagavad Gita contains subtle and profound teachings and has a universality which embraces every aspect of human action.
Study of both the text and Swami Sivananda's commentary.
Karma and Reincarnation
The law of cause and effect
The law of action and reaction
The law of compensation
The law of retribution
Destiny and self-effort
Samsara, the wheel of birth and death
Hatha Yoga
Ethical and moral principles
Body, prana and mind
From control over the body to control over the mind and meditation
Raja Yoga
Ashtanga: the eight limbs of yoga
Antahkarana: functions of the mind
Concentration and meditation
Overview of Kundalini yoga
Bhakti Yoga
Kirtan: chanting of devotional songs.
Sanskrit mantras, Indian deities and their cosmic meaning
Arati and pujas (traditional Indian devotional rituals)
Karma Yoga
Karma Yoga – selfless service: one hour daily in the Ashram community.
Jnana Yoga
Basic concepts of Vedanta philosophy
The seven bhoomikas or planes of consciousness
Space, time, causation
The three bodies
The three levels of the mind
Conquest of death
A basic knowledge of yoga postures and philosophy is helpful but not essential
A familiarisation with our teachings and teaching methods is recommended but not essential
A high degree of self-motivation is required for all aspects of the course
A sincere desire to learn and openness to the teachings of yoga is required
The practice and especially the teaching of yoga demand a high degree of self-discipline and purity
Participants are required to attend all spiritual activities, satsangs, lectures and asana classes
Meat, fish, eggs, black tea, coffee, alcohol, tobacco and drugs are prohibited in the Ashram
A strict dress-code is followed
It is not possible to cater to personal dietary preferences beyond the yogic-vegetarian meals
Participants who do not comply with the Ashram rules may be dismissed from the course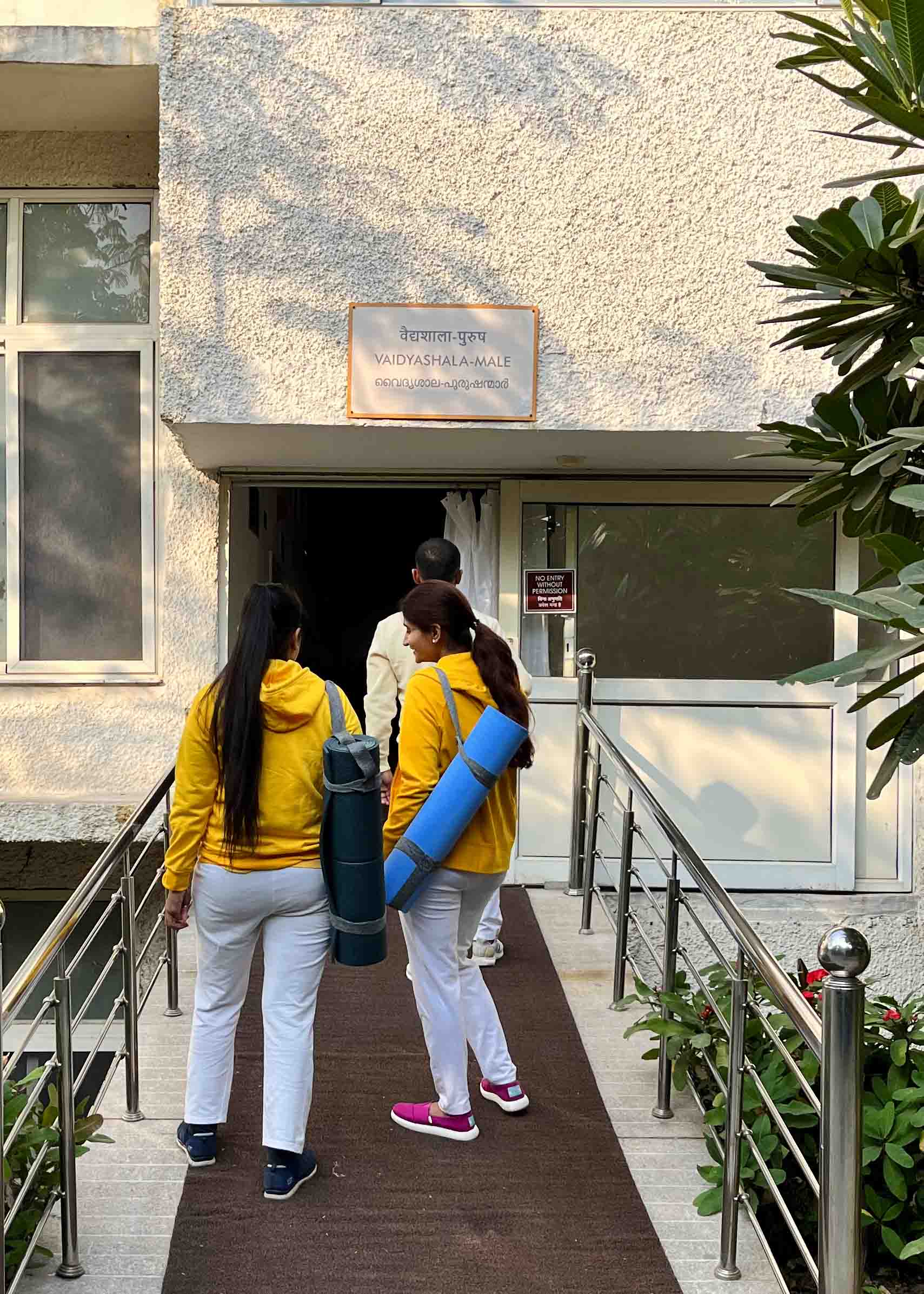 | | |
| --- | --- |
| 5.20am | Wake up |
| 6am | Satsang |
| 8am | Asana, pranayama class |
| 10am | Brunch |
| 11am | Karma Yoga |
| 12.00pm | Bhagavad Gita lecture or chanting class |
| 2pm | Main Lecture |
| 4pm | Asana, pranayama class |
| 6pm | Dinner |
| 8pm | Satsang |
| 10.30pm | Lights out |
Attendance of the entire TTC daily schedule is mandatory.
The Sivananda Yoga Vedanta Dhanwantari Ashram Trust, Neyyar Dam, Thiruvananthapuram, Kerala, India, awards an internationally recognised certificate upon course completion and successful examination. The Sivananda Yoga Vedanta Dhanwantari Ashram Trust is a Leading Yoga Institute of the Yoga Certification Board (YCB), AYUSH department, Government of India. We are approved to conduct, examine and issue certificates for all YCB training levels. We are also an institute member of the Indian Yoga Association.
Graduates of the TTC will receive IYA Certified Course in Yoga (CCY) certification and professional membership where full course fee has been paid.
TTC is suitable preparation for sitting the YCB Yoga Protocol Instructor (YPI) examination.
Vrindavan Ayurveda Chikitsalayam offers three simple and functional types of accommodation.
Please note: Couples are not permitted to share twin rooms during Teachers' Training Courses.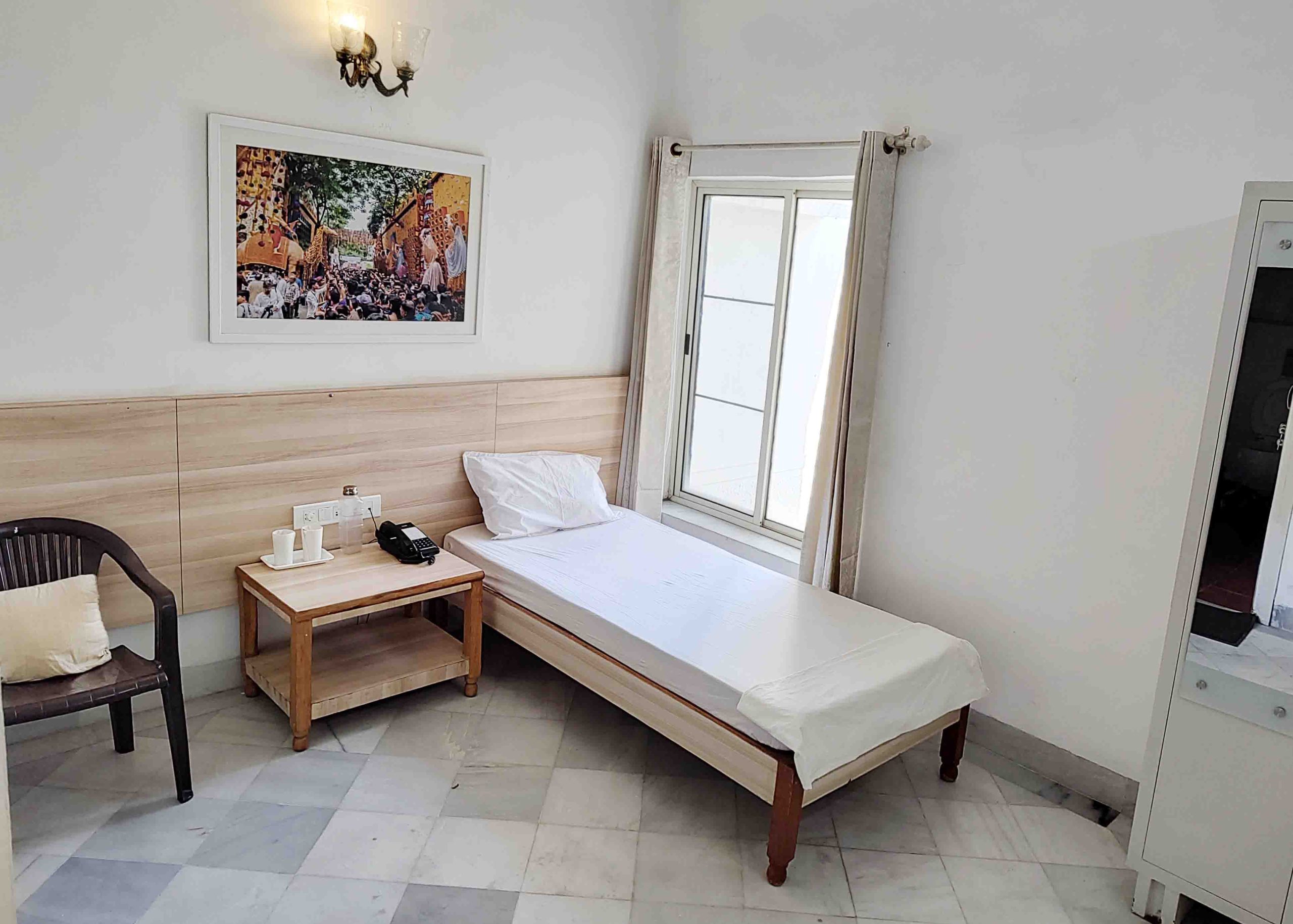 Ekaant Vaas Rooms: Single room (AC or non-AC option) with private bathroom (hot water), kettle and fridge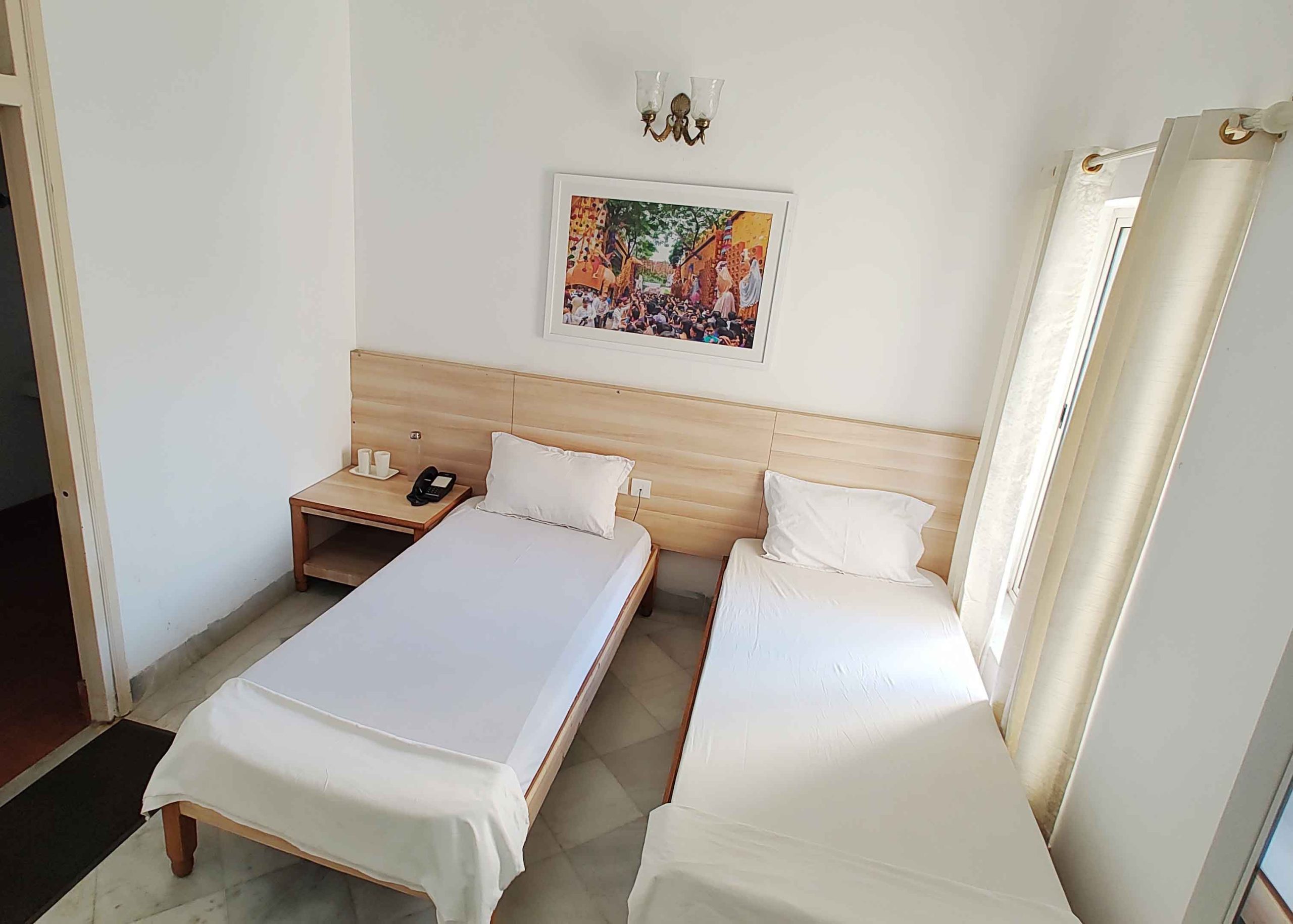 Vasu Vaas Rooms: Shared non-AC twin rooms (AC or non-AC option) with private bathroom (hot water)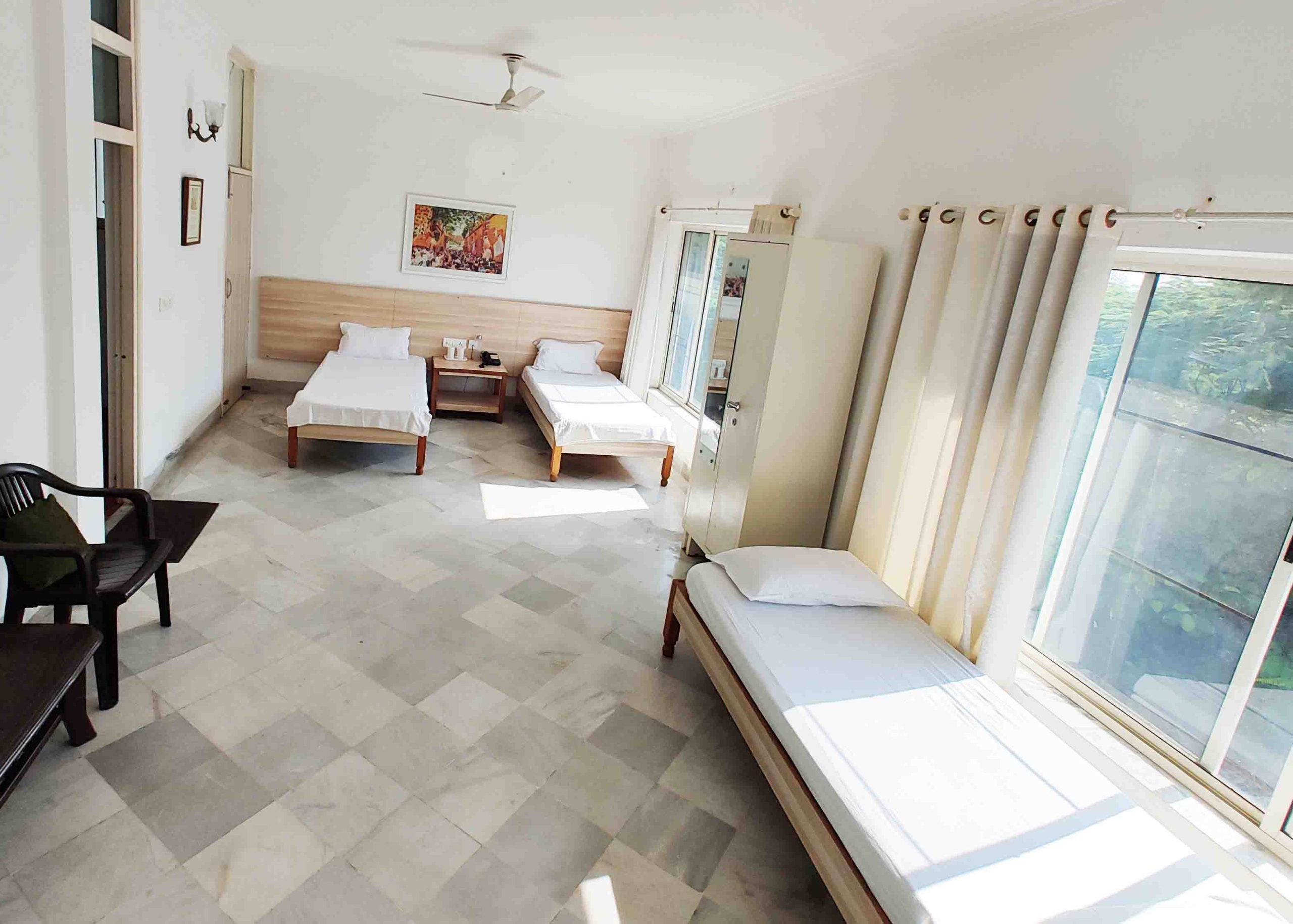 Nanda Vaas Dormitory: Shared triple rooms (AC or non-AC option) with private bathroom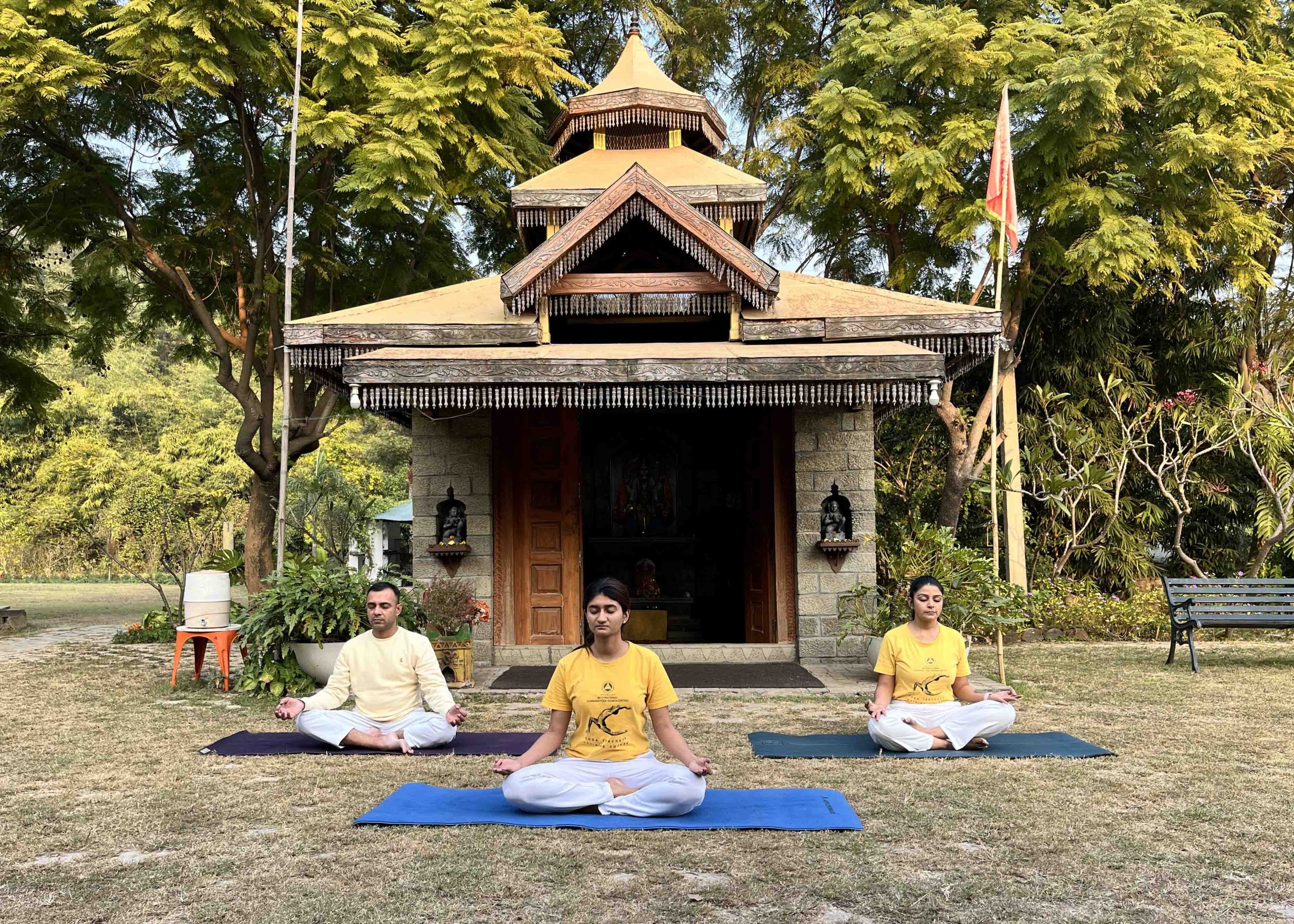 Course Materials: Two sets of uniform and a TTC manual are provided as a part of the course material and are included in the course fee.
Language: The course is taught in English.

An international TTC course with translation is offered in January at Sivananda Yoga Vedanta Dhanwantari Ashram, Kerala depending on demand. Please enquire before making any travel plans if you do not have a good command of both written and spoken English.

Evaluation of students is on:

Attendance
Performance
Theory during the course
Final written exam
A minimum combined score of 50% is required to pass.
Unsuccessful students will have to repeat the entire course with cost to qualify for the certificate

Supplemental Course Material:  Apart from the TTC manual, there are some recommended texts for the course. These are not included in the course fee and can be bought from the boutique:

Sivananda Training Manual
The Completed Illustrated Book of Yoga by Swami Vishnudevananda
Bhagavad Gita – with commentary by Swami Sivananda
Sivananda Companion to Yoga
Meditation & Mantras by Swami Vishnudevananda

To maintain the spiritual atmosphere of the ashram guests please review Do's & Don'ts
Things to Bring: These items can also be purchased at the ashram boutique.

Comfortable clothes
Sandals
Toiletries
Towel
Personal items
Water bottle (Reusable, we try and limit the amount of single-use plastic)
Torch
Meditation shawl (for cool evenings)
Yoga asana mat
Meditation cushion
Notebooks and pens

Meals: Simple Indian vegetarian meals are provided at 10:00 am and 6:00 pm. (It is not possible to cater to personal dietary preferences beyond the yogic-vegetarian meals)
Our closest town is Chandigarh which is well connected with the Vrindavan Chikitsalayam in Baddi, Himachal Pradesh by air, rail and road. Chandigarh has domestic as well as international Airport along with Railway station and interstate Bus stand . from railway station / airport / interstate bus stand at chandigarh , prepaid taxi OLA/UBER can be hired to reach VAC which is approx 50 mins drive or we can be contacted at [email protected] to book taxi for pickup
By Air
Nearest airport is Chandigarh with multiple flights from Delhi, Mumbai, Hyderabad, Banglore and also international flights from Dubai and Sharjah.
By Rail
Nearest railway station is Chandigarh, which is well-connected to Delhi. The best interconnectivity between Chandigarh and Delhi is through Shatabadi Express and Vande Bharat Express. Tickets can be booked via irtc.co.in
By Road
Vrindavan Ayurveda Chikitsalayam is 37 Kms or a 50 min drive from Chandigarh. Taxis are available from Chandigarh, pre-paid taxis such as OLA and UBER are available from the airport and railway station.
Distances from major towns/cities:
37 KM (S) from Chandigarh
284 KM (S) from New Delhi
40 KM(S) from Kasauli (Hill Station)
90 KM (S) from Shimla (Hill Station)
For cancelling the registration before the start of the course, the original payment will be refunded less:

6.5% for Indians  ie. INR payments.
USD 150 up until 3 months from the booking date for USD payments (all accommodations).
An additional USD 50 will be charged (USD refunds) where cancellation is after 3 months from the booking date (all accommodations).

Once the course starts, if the student decides to leave within five days, the original payment will be refunded less:

18% for Indians ie. INR payments.
USD 450 for USD payments (all accommodations)

After five days of the course, no refund will be issued.
Students leaving the course before completion are required to return all teaching materials and uniforms.
Full refund will only be granted where SYVC has had to cancel the programme.
PLEASE ENSURE THAT TRAVEL AND ANY NECESSARY VISA ARE POSSIBLE BEFORE REGISTERING.
Revised 1-12-2021