Online Yoga Courses & Classes
For questions related to Online Classes please contact: +91 4954 269926  |  [email protected]
Online Teachers' Training Course*
Based on the ancient gurukula system, following the same schedule and discipline as our onsite course. Develop the skills to teach yoga asana, gaining a solid grounding in the classical yoga tradition, and at the same time deepen your spiritual connection to yoga and open yourself to profound inner transformation. In this four-week course you will establish a firm foundation of discipline that promotes physical, mental, emotional, and spiritual growth and build a strong base from which to teach others naturally and with confidence.
Discipline is an important part of the course and students are guided to maintain discipline and a proper diet while attending from home.
28 consecutive days
Donation : INR 30,000
Prerequisites
Open to All
Upcoming Batches

12th September – 9th October
Sivananda Basic Open Class (Free)*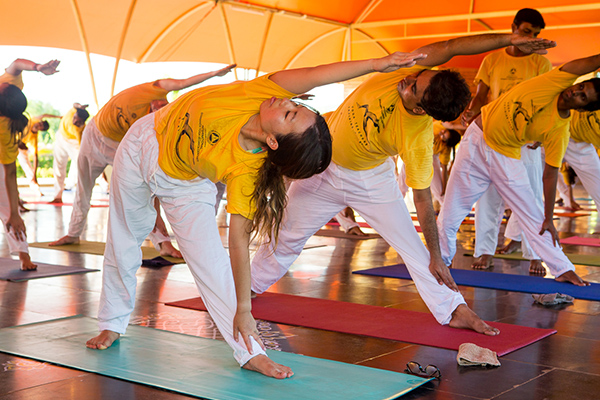 * Note:
The above free Open Class offering at 6.30 pm has been made possible for another 6 months, up until 31 January 2022 by the generosity of a kind British student for those who are struggling financially.  
Gifts of 1,750 & 1,000 GBP have enabled hundreds of students to access and enjoy the many benefits of regular yoga practice online during these difficult times when the safety of travel is uncertain and restriction to the home has been frequent.
If you would like to provide a gift of the benefits of yoga to others, please contact us to discuss the possibilities: [email protected]
A 1.5 hour class which includes the 12 basic postures, pranayama (breathing exercises), surya namaskar (sun salutation), and relaxation guided by an experienced Sivananda teacher. A great way to maintain a regular yoga practice–have your yoga mat ready!
Only 97 registrations available
Prerequisites
A foundation of yoga is necessary.
Completion of the Beginners Yoga Course is necessary for a safe online practice of this class.
Upcoming Batches

31st July 2021 – 31st January 2022
18.30 – 20.00 Hrs. IST (Monday to Friday)