The South India Yatra
A guided spiritual journey to south India's most sacred places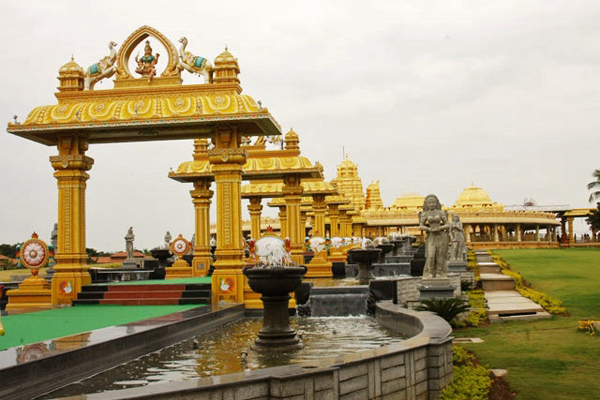 Yatra—a Sanskrit word meaning journey—is a pilgrimage to spiritual places, such as temples, monuments and other sacred sites. We visit south India's most holy and sacred places of worship while still doing our yoga practices (sadhana). The journey itself is as important as the destination, and the challenges of travel serve as an act of devotion in themselves. Visiting a sacred place is believed by the pilgrim to purify the self and bring one closer to the divine. The yatra offers you a sense of belonging, purifies the heart and gives expression to the feeling of self-completion in life. A visit to a pilgrim site removes all sins committed in past lives.
You will mingle with other yatris, devotees, from all parts of India, soaking up their devotion and sincerity. You will be part of the Indian bhakti tradition, powerful and cleansing. As mentioned in the sacred texts, great sages in the ancient days used to perform tapas (austerities & meditation) and other spiritual activities in these sacred places. Thus these sites are guided by spiritual forces that can destroy negative tendencies and take one towards the path of jnana (knowledge), bhakti (devotion) and Self-realisation.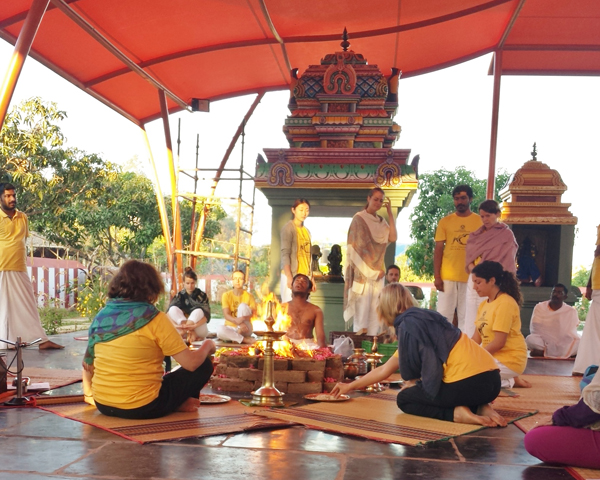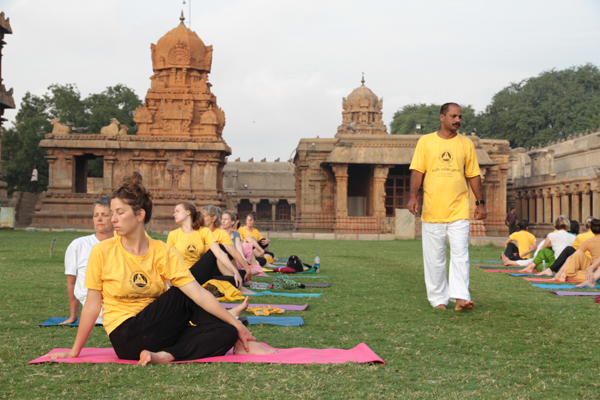 For this reason it is recommended that you are familiar with our teachings and are accustomed to our routines through visits to our Ashrams or Centres. Our days will begin at 6am with meditation, yoga asana or other spiritual practices. There will be some time allotted for shopping, sightseeing and swimming, but the main focus of the yatra is spiritual. You will be guided by experienced Sivananda-trained staff and teachers throughout the yatra. Local guides will be hired in some of the temples and sites to provide us with more detailed historical information.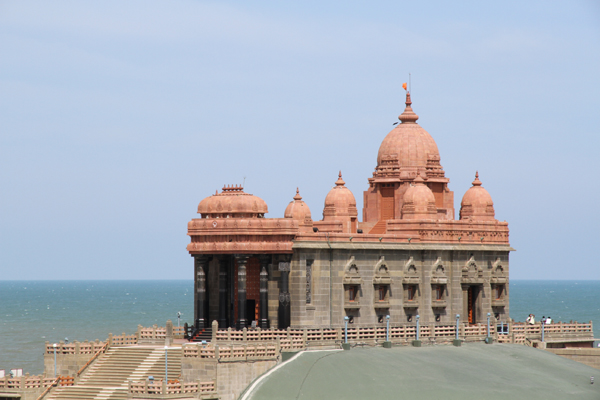 Kanyakumari – at the southernmost tip of India, where three seas meet—the Bay of Bengal, the Indian Ocean and the Arabian Sea. A place of pilgrimage, known also for its spectacular sunsets.
Padmanabhapuram Palace, a magnificent teak palace of the 16th century and a beautiful example of Kerala's indigenous style of architecture.
Suchindram Temple with its extraordinary musical stone pillars and a seven metre high statue of the deity Hanuman carved from one stone.
Kerala Backwaters, a house boat ride on these famed waterways offering breathtaking views of the untouched and otherwise inaccessible countryside.
Meenakshi Temple in Madurai, renowned for its astonishing architecture. The Temple has been nominated for the new Seven Wonders of the World.
Ramanathaswamy Temple, housing one of the twelve jyotirlingas of Lord Siva, and twenty two wells. It is believed that Lord Rama gave thanks to Lord Siva here.
Rock Fort Temple in Tiruchirapalli (Trichy), a historic fort and temple complex built on an ancient 273-foot high rock. Reaching the top requires climbing over 400 stone-cut steps.
The impressive Brihadeeswarar Temple in Thanjavur (Tanjore) dedicated to Lord Siva and one of the greatest architectural sites in India, designated as a UNESCO World Heritage Site.
Ramana Maharshi Ashram, Thiruvanamalai. Ramana Maharshi, saint, sage and God-man of India is revered world-wide by many thousands of devotees.
Sacred pilgrimage around Arunachalam Hill. 'For everybody it is good to make circuit of the hill. It does not matter whether one has faith or not, just as fire will burn all who touch it whether they believe it will or not, so the hill will do good to all those who go round it.'—Ramana Maharshi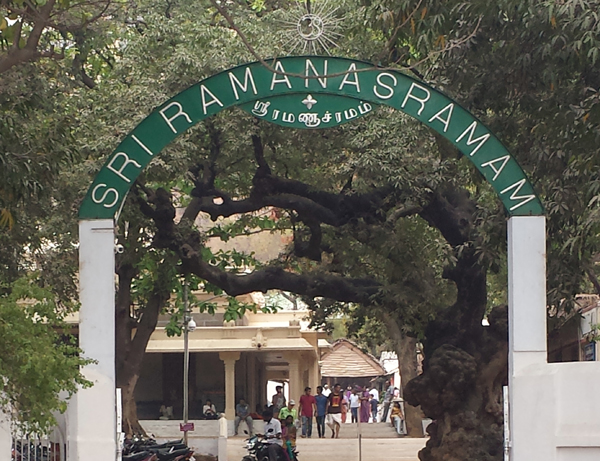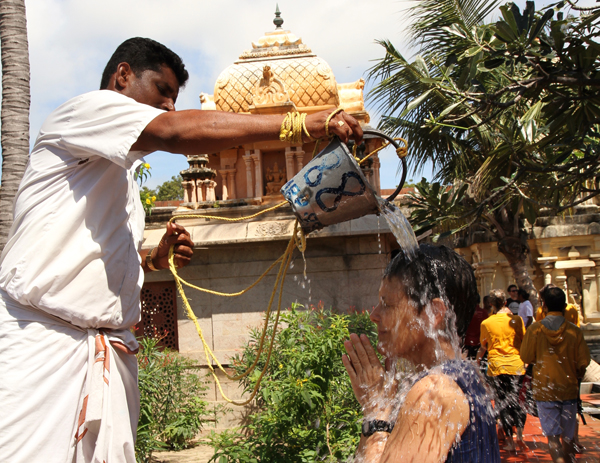 The Golden Temple, Vellore dedicated to Mahalakshmi and with both the exterior and interior coated in pure gold, estimated at a weight of 1,500 kgs.
Mamallapuram (Mahabalipuram) Beach and seashore temple. A major seaport in ancient times, now a World Heritage site of temples, carvings, and archaeological remains.
Kapaleeswar Temple, Mylapore and shopping in Chennai. A stunning Dravidain-style temple dedicated to Lord Siva, considered the Kailash of the south.
Auroville and the sites of Pondicherry, a former French colony where the older part is full of colonial-style streets. Here is the Ashram of the sage and freedom fighter Sri Aurobindo and The Mother.
Kailasnatha Temple in Kanchipuram, Tamil Nadu known for its intricate and ornate sculptures and fabulous architecture and one of the oldest temples of south India.
The tour begins at Dhanwantari Ashram in Neyyar Dam, Kerala. The closet airport is Trivandrum which is about 35 kms from the ashram.
The fee for the yatra includes accommodation, vegetarian meals, travel within south India, entrance fees to temples and other places and yoga asana classes.
The mode of transportation will be a comfortable air-conditioned bus.
Traditional vegetarian south Indian food will be provided along with fruits, tea, juices etc. and bottled drinking water.
Refund Policy: In case of cancellation, the original amount less administrative fee of US $ 250 will be refunded.
Prices include programme, bed and board
| | | | |
| --- | --- | --- | --- |
| Location | Date | Prices | Book Now |
| Neyyar Dam | Date to be announced | | |
Accommodation will be modest comprising of simple twin sharing rooms with air-conditioning. Dormitory accommodation will be provided when visiting our Ashrams.