Ashram Information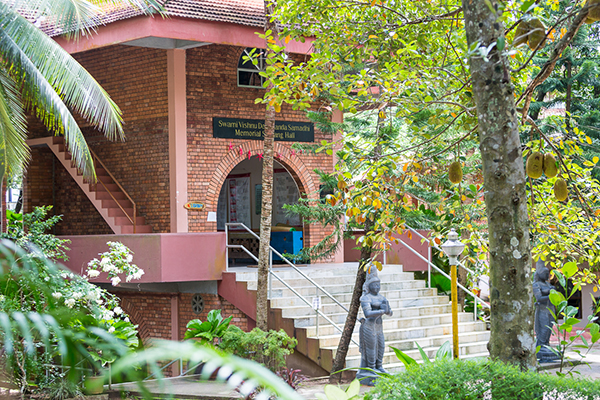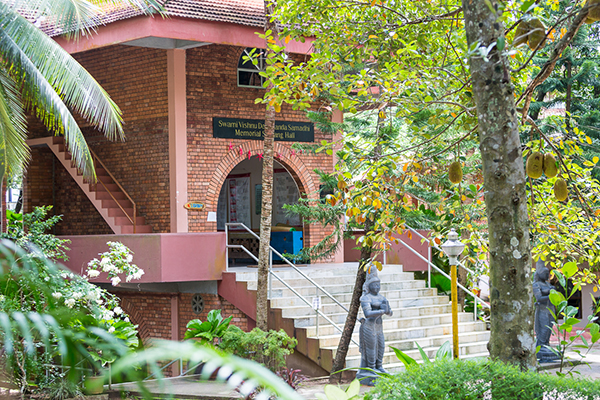 The Sivananda Yoga Vedanta Dhanwantari Ashram, part of the Sivananda Yoga Vedanta Centre organisation, is set in twelve acres of tropical splendour in the quiet foothills of Kerala's Western Ghats. The natural beauty of Neyyar Dam lake, the forested surroundings, the cool green coconut tree groves and colourful flower-filled views, all offer an ideal atmosphere for the practice of yoga and meditation. The classical, traditional yoga that we teach—authentically preserving its purity and tradition dating back several thousand years—brings health, vitality and peace of mind. We welcome both beginners and those more experienced. The Ashram, formerly an ayurvedic sanctuary of healing, and named after Lord Dhanwantari, the celestial originator of Ayurveda, offers a year-round Yoga Vacation programme, our world-renowned Teachers' Training Courses, Kids' Yoga Camp, Ayurveda programmes, Fasting & Detoxification Programme and more.
The Ashram faces Agastya Peak—according to legend, Agastya, a sage of the Vedic period, continues to meditate here on this mountain. The air is still, the landscape unspoiled and untouched by the hustle of city life. Panoramic views across the Sahyadri mountain range are only a short walk away. Day trips to Kanya Kumari, the southern most tip of India, where the three seas meet (Arabian Sea, Indian Ocean and the Bay of Bengal) are arranged during our programmes. Kerala is known as 'God's Own Country' and a houseboat ride on the famed Keralan waterways offer breathtaking views of the untouched and otherwise inaccessible countryside. Padmanabhapuram Palace, a magnificent teak palace of the 16th century and a beautiful example of Kerala's indigenous style of architecture and Suchindram Temple with its extraordinary musical stone pillars and a seven metre high statue of the deity Hanuman carved from one stone are nearby sites of interest.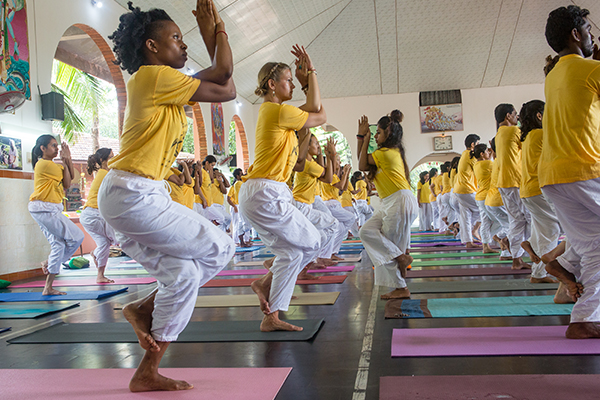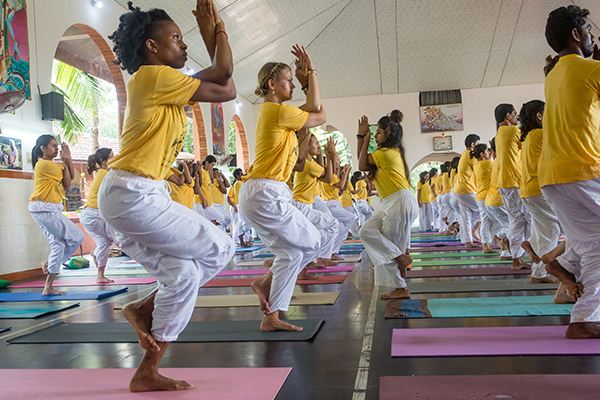 The Ashram offers five simple and functional types of accommodation. There are no single rooms.
Vaikuntham Rooms: Shared AC twin rooms with private bathroom (hot water), kettle and fridge
Kailash Rooms: Shared non-AC twin rooms with private bathroom (hot water)
Vishnu Rooms: Shared non-AC twin rooms with common bathrooms (cold water only)
Dormitory: separate for men and women. Dormitories contain up to 32 beds with two-bedded cubicles. Limited solar heated water is available.
Tent space: you are required to bring your own tent, mattress, bed sheet and pillow. Shared tent area bathrooms are with cold water only.
Please note: Couples are not permitted to share twin rooms during Teachers' Training Courses and Advanced Teachers' Training Course.
For all accommodation two bed sheets, pillow, pillow case, and mosquito net are provided.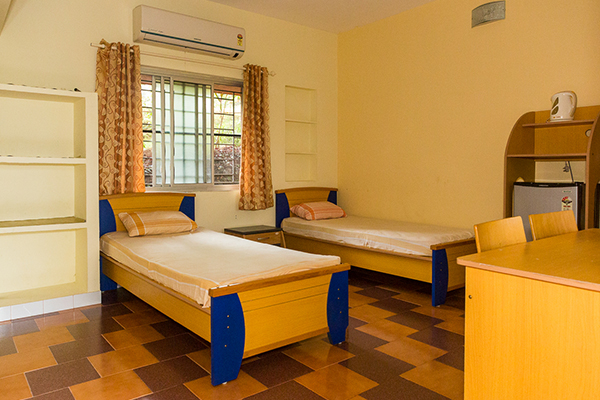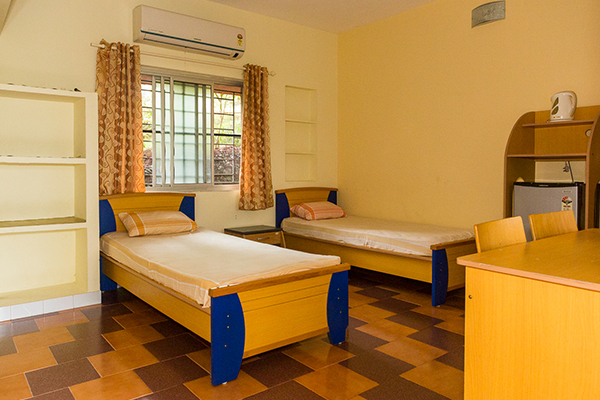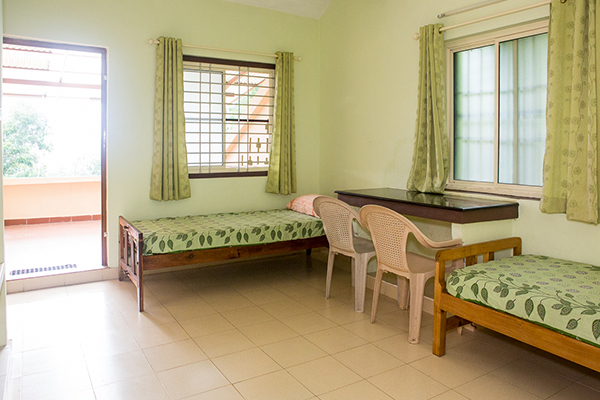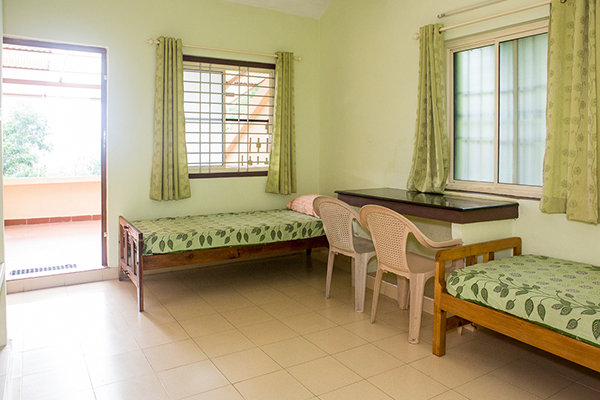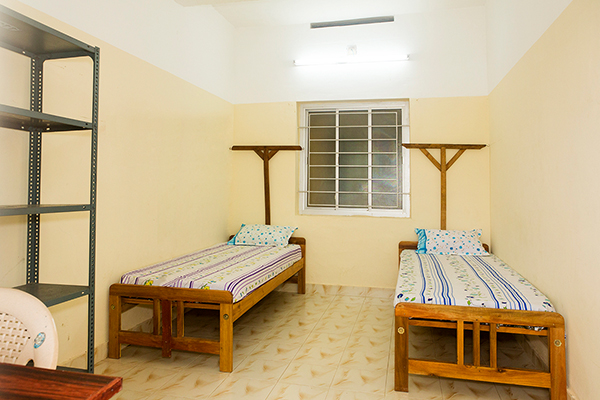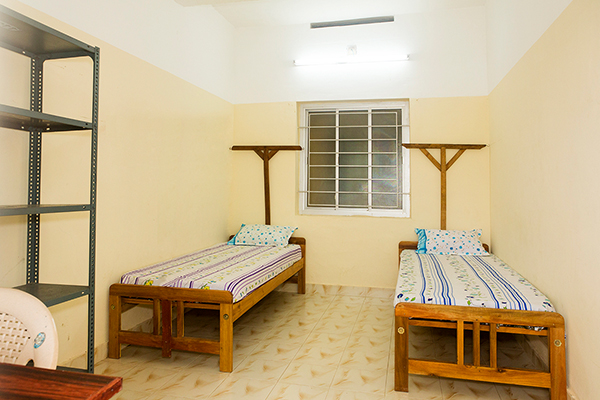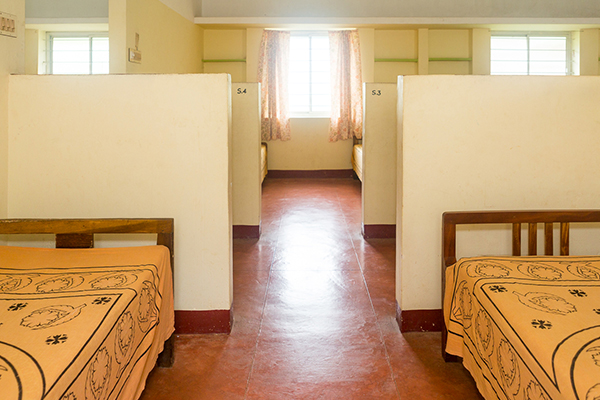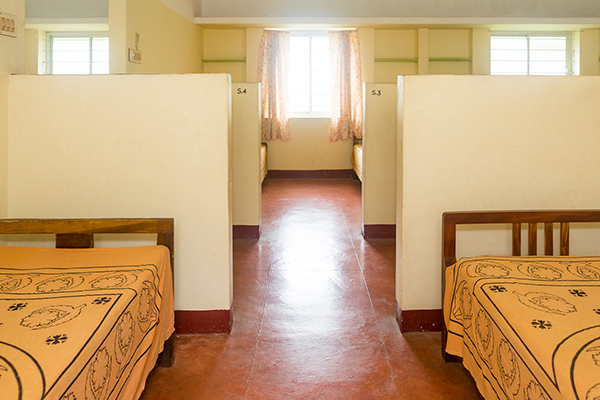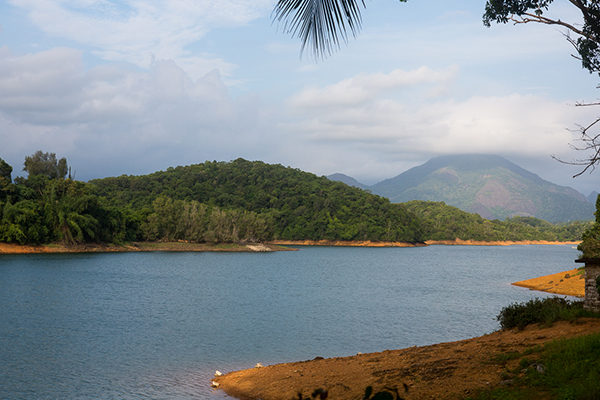 Check-in / Check-out: All guests check in and out at Reception upon arrival and departure. If you are leaving outside office hours (8am to 8pm), please checkout the previous day. All bedding to be returned before departure.
Meals: We serve simple, nutritious south Indian vegetarian food for brunch (10am), herbal tea with snack (1.30pm) and dinner (6pm). Fresh fruit, fruit juices and snacks are available for purchase in our Health Hut from October to April.
Drinking Water: Filtered water or ayurvedic herbal water is freely available.
Vaccinations: Guests are advised to check with their local health authority regarding vaccinations required for visiting India.
What to Bring: Comfortable clothes, sandals, toiletries, personal items, meditation shawl for cool evenings, yoga asana mat, towels, water bottle and a torch. Most essential items are usually available for purchase from the Ashram boutique.
Registration & Visa requirements: Guests are required to bring a valid photo ID along with them. Foreign Nationals are required to bring their original passport with them. A visa is required from most countries to visit India.
Karma Yoga: The Ashram is a charitable, non-profit organisation supported by dedicated volunteer staff. One hour a day is allocated to karma yoga or selfless service when we ask the guests to help out in the Ashram. It is a lot of fun and you soon feel part of the Ashram community.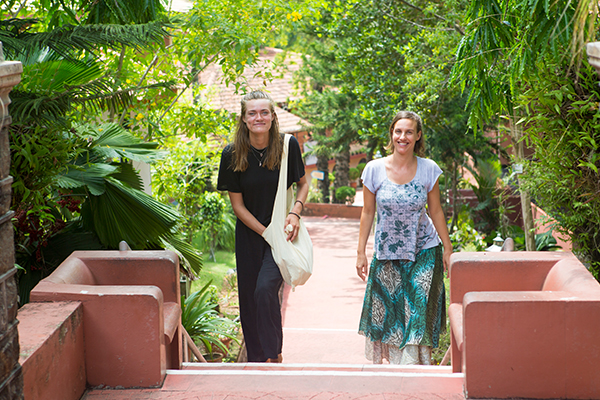 Child Policy: Unfortunately due to the increased numbers of guests and limited accommodation we can not accommodate children below six years of age during the high season, October to April inclusive.
Ashram Rules and Guidelines: To maintain the spiritual atmosphere we ask all Ashram guests to follow Ashram rules. The Ashram reserves the right of admission and guests may be asked to leave if their behaviour is contrary to the Ashram rules and teachings.
Please Note: The teaching language of the Ashram is English. The daily schedule times and activities may vary according to need.
The facilities below are available at specific times only (please check with the office). All facilities are closed during classes, satsang and after 7.30pm.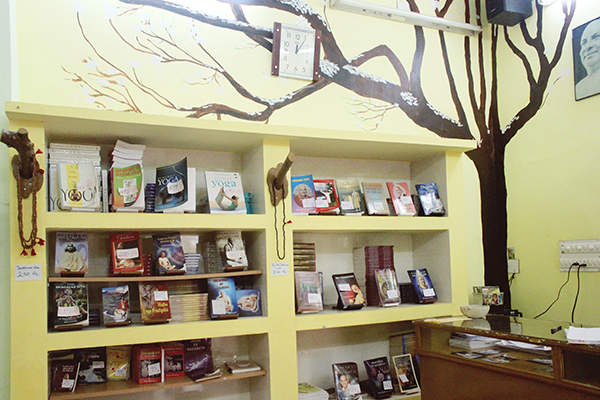 Boutique: The Ashram boutique stocks a variety of items including books, CDs, yoga mats, stationery, post-cards, clothing, snacks and items for everyday use.
Library: The library houses a variety of books on yoga and related topics.
Safe Keeping: Valuables may be stored in safe-keeping facility in the Reception area.
Health Hut: Delicious fresh fruit salads, fresh juices and snacks can be enjoyed in the Health Hut. Open seasonally.
Telephone: Outgoing international calls are available depending on telephone line conditions. There is no facility for incoming calls.
Internet and Wifi: The Ashram provides free wi-fi facility for guests during specific hours. Due to local conditions internet connectivity can be unreliable. There is an Internet Room which guests can use for browsing and printing at a nominal cost.
Post: Incoming and outgoing mail is possible at the Ashram. Please check at Reception.
Recycling: Any unwanted items, such as used clothing, medicine etc. may be left at Reception for distribution to those in need.
Laundry Service: An independent and affordable laundry service is available from October – April. The Ashram does not accept responsibility for this service.
Travel Agent: An independent travel agent visits the Ashram once a week from October – April. The guests can make travel bookings, change foreign currency and cash travellers' cheques on payment of a commission fee. The Ashram does not accept responsibility for this service. The Ashram cannot change foreign currency or cash travellers' cheques.
Please Note: The above facilities are closed during classes, satsang and after 7.30pm.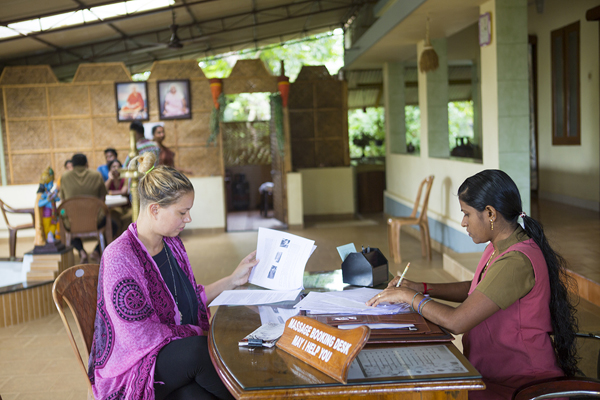 Our Ashram is an abode of peace and shelter from the pressures of worldly life. It provides a safe space for personal development and the pursuit of spiritual ideals. People come from many walks of life and from every corner of the world to experience the profound spirituality of ancient India, and the centuries-old disciplines of yoga, vedanta and ayurveda. Maintaining a positive spiritual atmosphere requires the involvement and participation of all guests and staff. In this regard we request your cooperation in observing the following rules and guidelines.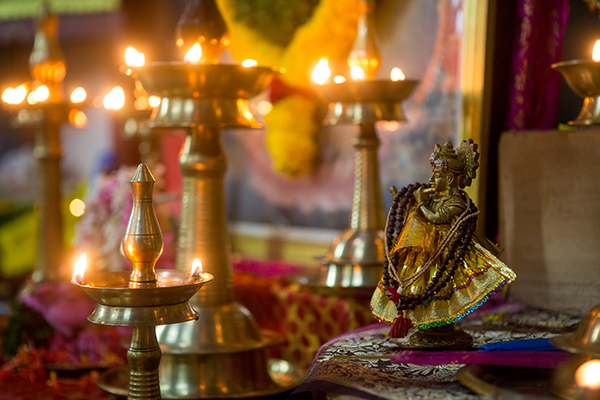 Dress Code: 
Men and women must cover shoulders, midriff and legs. Tight fitting, transparent and revealing clothing are not permitted. This includes:
• Shorts above the knee • Leggings 
• Low cut and sleeveless t-shirts • Tank tops
Guests' behaviour and dress code should be respectful of the local culture and enhance the spiritual atmosphere. Observance of the dress code should be maintained at all times including during asana classes or swimming.
Prohibited Items: Smoking, alcohol, drugs, meat, fish, eggs, garlic and onions are not allowed. The use of mobile phones is only permitted in designated areas outside of class times. Photography, video, audio recording during classes and ceremonies is only possible with the permission of the director. Pets are not allowed.
Male-Female Relations: To respect the local culture and the monastic tradition, kindly restrain expressions of affection such as hugging or kissing in public. Guests at the Ashram are advised to observe celibacy (brahmacharya) as part of the spiritual discipline. Male and female dormitories are separate. Men are not allowed in the ladies' dormitory and vice versa. The Sivananda Yoga Vedanta Centre organisation of India disapprove of and condemn any form of harassment directed at guests, staff or visitors.
Attendance: Attendance at all Ashram activities is mandatory as part of the Ashram Yoga Vacation programme. As a mark of respect for the teacher and as a practice of self-discipline, guests are required to be on time and to remain for the duration of each programme. Asana classes are open to resident guests only.
Free Day:  Friday is a free day in our Ashrams, unless contra-indicated by a specific Course. Guests are required to attend morning and evening satsang. There are no lecture or coaching classes on the free day. The yoga asana classes and meals run as usual.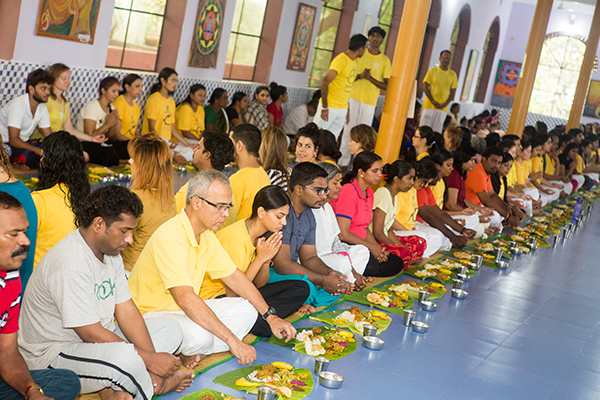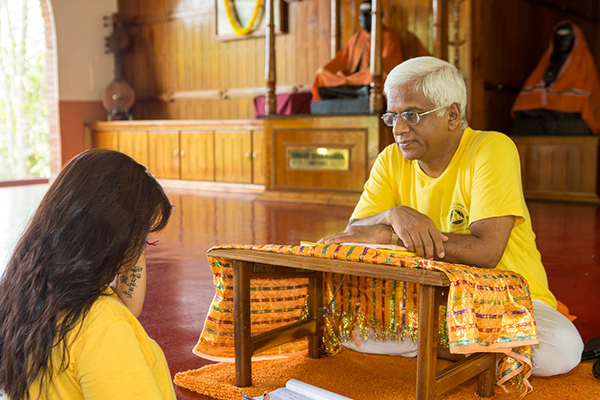 Silence: Guests are requested to observe silence during meals, before morning satsang and after evening satsang.  Lights out after 10.30pm.
Personal Belongings: We do not accept responsibility for guests' personal belongings. Safe-keeping facilities are available.
Payments & Donations: Daily donation rates at the Ashram includes classes, food and accommodation. Dates and donations are subject to change without notice. For all programmes guests are subject to the suggested donation in effect at the time of payment. Personal cheques are not accepted. The Indian concessional rate does not apply to: non-resident Indians (NRI), Indian nationals working or living abroad, foreign nationals working or living in India, Overseas Citizen of India (OCI) and Person of Indian Origin (PIO). Indian nationals may be asked to provide evidence of Indian nationality.
Minimum Stay: An initial minimum payment for three nights' accommodation at the Ashram is required upon arrival and registration. This payment is non-refundable and non-transferable in the event of early departure.
Harassment Policy: Specifically, no harassment, proposals or innuendos with a sexual connotation will be tolerated during any programme or activity organised by the Ashram. Guests and students participating in such programmes and activities are accordingly made aware of this policy and invited to apply it in their personal behaviour during their stay. Any guest or student who thinks he/she may be the victim of unsolicited advances or any other form of sexual harassment is asked to notify a senior Swami or director immediately in order for corrective action to be undertaken without delay. Complaints made to a senior Swami or director will be treated confidentially and the alleged violator or any third party will not be advised of the complainant's identity without the latter's consent.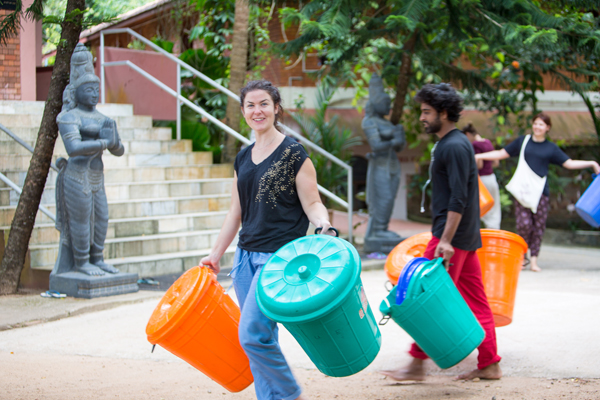 Arriving by Air
There are daily national and international flights into Trivandrum (TRV – Thiruvananthapuram). From the airport, you can take a pre-paid taxi, online taxi UBER or auto-rickshaw directly to the ashram (recommended). The approximate fare is Rs.1000/- to 1200/- for a taxi and Rs.600/- to 900/- for an auto-rickshaw (three wheeled vehicle – no AC). The distance to the ashram is 35km, and will take approximately an hour and half to reach. The pre-paid taxi booth is situated near the exit as you come through arrivals.
Budget Option: By bus from the airport
If you plan to take a bus from the airport to the ashram  you will first have to get from the airport to the Trivandrum KSRTC Central (Thambanoor) Bus Station. The distance to the Bus Station is 5km and will take approximately 10 to 15 minutes to reach.
At the Trivandrum Bus Station please be advised that the local buses may run irregularly, are crowded and have no air-conditioning. Neyyar Dam, where the Ashram is located, is 30 km from Trivandrum city and the last stop on the route. The Trivandrum 
KSRTC Central 
Bus Station is located across the street from the Trivandrum Central Railway Station.
There are two options
1 Take a bus to the town of KATTAKADA. These are relatively frequent, departing from Platform No.1 or 2. From KATTAKADA we recommend you take an auto-rickshaw directly to the ashram which will cost you Rs.200/- to 300/-.
or 2 Take a bus directly to NEYYAR DAM which run irregularly once or twice an hour from Platform 1 or 2. The bus will drop you at the bottom of the hill. There is then a ten-minute steep walk to the ashram. You may find an auto-rickshaw for the uphill portion to the ashram for Rs. 30/- to 50/- (not available at night).
Arriving by Train
Trivandrum Central Railway Station (TVC) is connected by rail to all main cities in India. You are advised to book rail tickets early as trains are usually booked nearer to the time of travel. Train e-tickets can be booked up to three months in advance via the internet or through travel agents. Train information can be obtained and booking can be made with credit/debit cards, net banking etc. via 
www.irctc.co.in
 or through travel agents.
By taxi/Auto-rickshaw/bus from railway station: Please see above.
Students and guests applying for any courses/programmes at the Ashram are required to sign the Liability Release Form.
Please click here to download the form.