Kids' Camp
Kids' Camp brings the discipline of yoga together with the fun of camp. Yoga classes and meditation (quiet time) combine with games, outdoor adventure, creative arts, sports and day-trips. There is plenty of time for fun and relaxation with the goal of fostering the qualities of co-operation as well as respect for nature and all living creatures. A certificate of participation is issued on completion of the course. Open to kids between 7-11 years.
STAY IN TOUCH WITH OUR MONTHLY NEWSLETTER
Contact: [email protected] or Call/ Whatsapp: +91 9446580764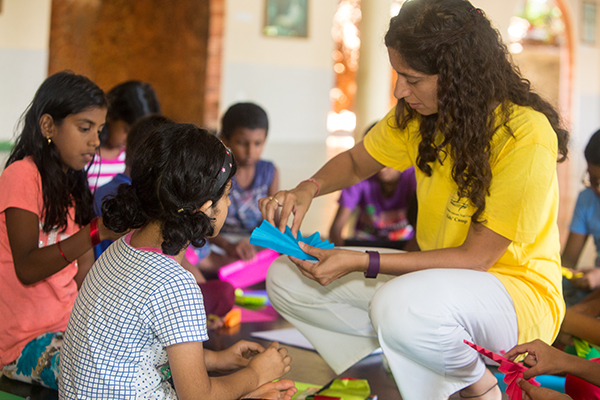 One daily yoga class, fun as well as educational
Morning and evening meditation (quiet time), chanting and story time
Arts and creative classes, outdoor and indoor games, workshops with guest teachers
Trips to places of interest
Meals are vegetarian. Snacks and drinks are provided during the day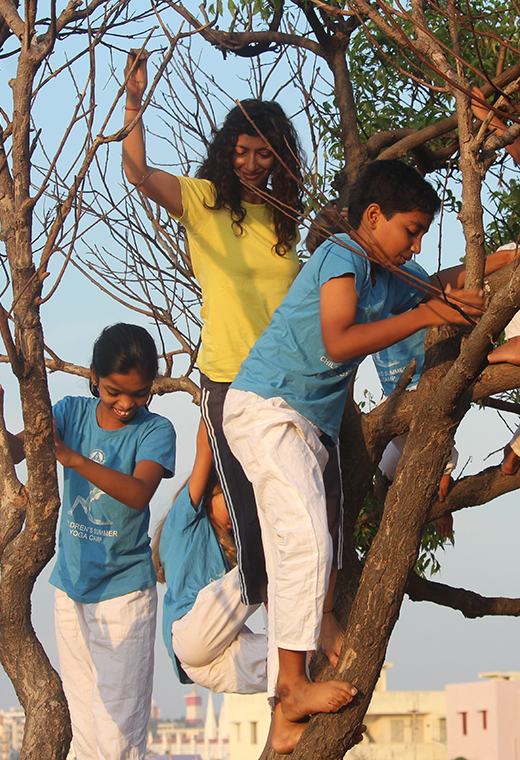 | | |
| --- | --- |
| 6am | Wake up |
| 6.30am | Satsang |
| 7.30am | Tea & Snacks |
| 8am | Hatha yoga class |
| 10am | Brunch |
| 11am | Karma Yoga |
| 12pm | Bhagavad Gita lecture or chanting class |
| 1.30pm | Tea & Snacks |
| 2pm | Arts & creativity / workshop / discussions |
| 4pm | Outdoor games |
| 6pm | Dinner |
| 7pm | Silent time – reading stories, writing home, likhita japa etc. |
| 7.30pm | Satsang |
| 8.30pm | Happy Assembly – indoor games |
| 9.30pm | Lights out |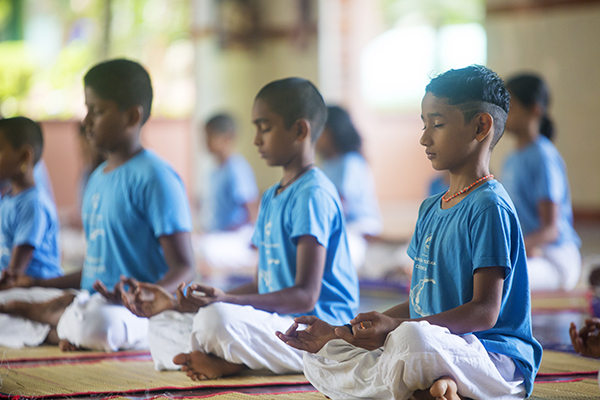 General Guidelines
Parents can stay before the start of Camp, however are not permitted to visit during Camp
To maintain the harmony of the Camp children must stay for the entire duration of three weeks. Children cannot be admitted for partial stay
To avoid disturbing the children's schedule emergency phone calls only are permitted. The staff keep parents updated through a WhatsApp group
The following items are not allowed in the Ashram: Mobile or Smart phones, tablets/ iPad, comics, magazines etc.
Pocket money to be deposited with the Ashram for staff to distribute on an 'as need' basis
The Ashram is not responsible for personal belongings
Laundry service is available free of cost
Things to Bring
Two sets of uniform are provided as part of the course
required  medication
swimming costume
clothes for day trips
towel x 3
yoga clothes (loose pants & t-shirts)
water bottle
note book & pen
torch with spare batteries
a passport size photograph
Arrival 
Both children and parents are welcome to stay at the ashram on the night before the course starts. Accommodation on that night is free of charge.
Upon arrival please check-in at Reception
Departure
Children are free to leave immediately after graduation
Parents are invited to meet the staff on the day of graduation
Both children and parents are welcome to stay at the ashram on the night after graduation. Accommodation on the night of graduation is free of charge for both children and parents
Refund Policy
For cancelling the registration before the start of the course, the original payment will be refunded less Rs 1,000 and less an additional Rs 5,000 if international bank transfer is required
Once the course starts, if the student decides to leave within five days, the original payment will be refunded less 10% and less an additional Rs 5,000 if international bank transfer is required
After five days of the Camp, no refund will be issued
For further information or queries, please contact [email protected]
Children stay in separate boys' and girls' dormitories supervised by counsellors.  The dormitories are simple and comfortable. Bathroom facilities have cold water only. Two sheets, pillow, pillowcase and mosquito net are provided.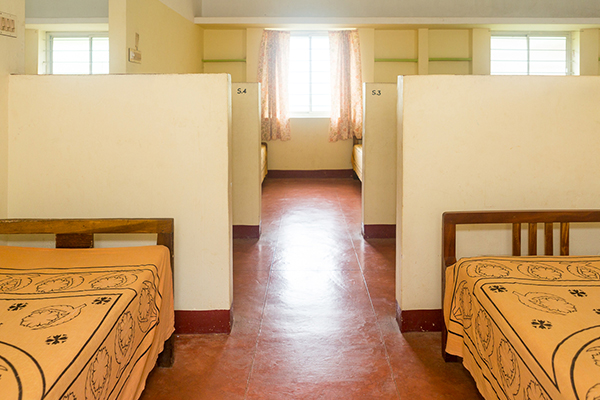 Dormitory: separate for boys and girls. Limited solar heated water is available.