Ayurveda Wellness Course
Explore the wisdom of the ancient science of Ayurveda in the land of its origin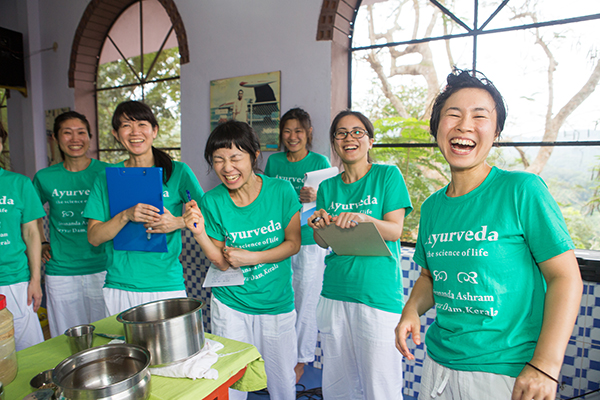 Explore Ayurveda in the tropical splendour of Kerala, south India with this inspiring two-week intensive course on the fundamentals of Ayurveda and its application to daily living. Packed full of information and practical advice as well as hands-on workshops, you will learn simple therapeutic treatments, how to prepare home remedies and ayurvedic cooking. Create a lifestyle based on good health and mental well-being for yourself, family and friends. 
The course is held at the Sivananda Yoga Vedanta Dhanwantari Ashram in the Sivananda Institute of Health (SIH)– a peaceful and healing environment in a place of sacred learning. Yoga classes and meditation are an integral part of the course. The course is directed by Dr P. R. Vishnu, BAMS, MD, resident doctor at the Sivananda Institute of Health, supported by a team of assistants and massage therapists.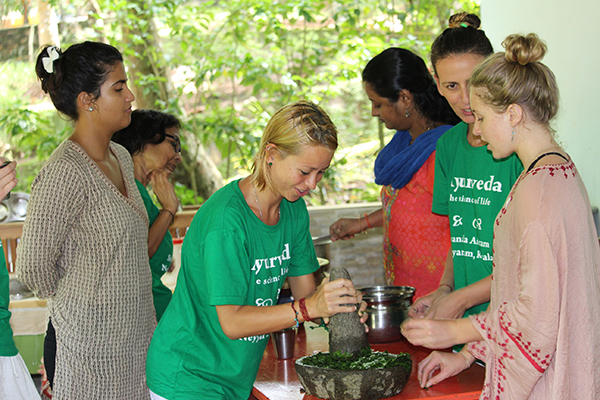 The course is divided into two parts: Ayurveda Theory and Practical Application.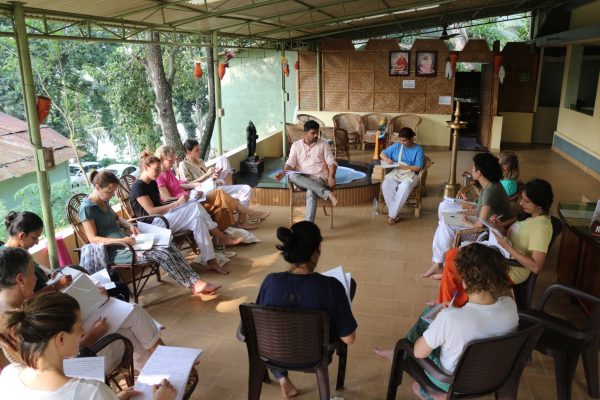 Ayurveda Theory: Dynamic lectures and discussions on the fundamental theories, key concepts and building blocks of Ayurveda.
Introduction to Ayurveda (Origins and Development)
Ayurveda Ashtanga (Eight Parts of Ayurveda)
Pancha-Maha-Bhuta Siddhanta (Five Great Elements Theory)
Tridosha Siddhanta  (Three Humors Theory)
Prakruti (Personal Constitution)
Agni (Transformative Fire)
Ama (Metabolic Toxins)
Saptha Dhatus (Seven Body Tissues)
Dinacarya (Ayurvedic Daily Regimen)
Ritucharya (Seasonal Regimen)
Dravya Guna (Ayurvedic Pharmacology)
Medicine Preparation Methods, Principles & Recipes
Ayurvedic Nutrition Principles & Recipes
Lifestyle & Diet Recommendations
Ayurvedic Healing Principles & Therapies
Ayurvedic Massage:  Application of Ayurvedic massage to face, head, neck, shoulders, back, the whole body including Kizhi (hot bundles) massage.
Ayurvedic Cooking: Cookery instruction from experienced Ayurvedic chefs.
Herbal Oils: Preparation of  therapy oils for massage and other treatments.
Herbal Remedies: Preparation of  home herbal remedies for common ailments.
Herbal Tea Preparation: preparation of herbal teas.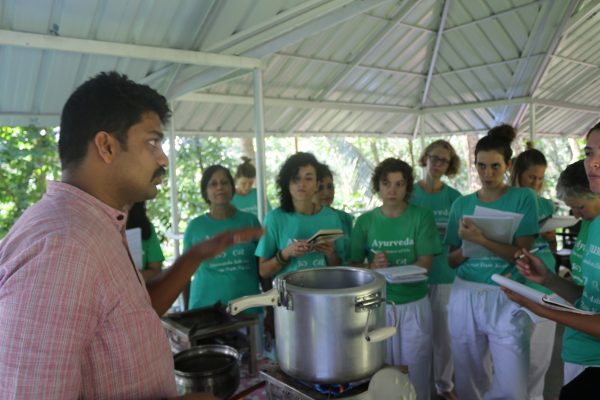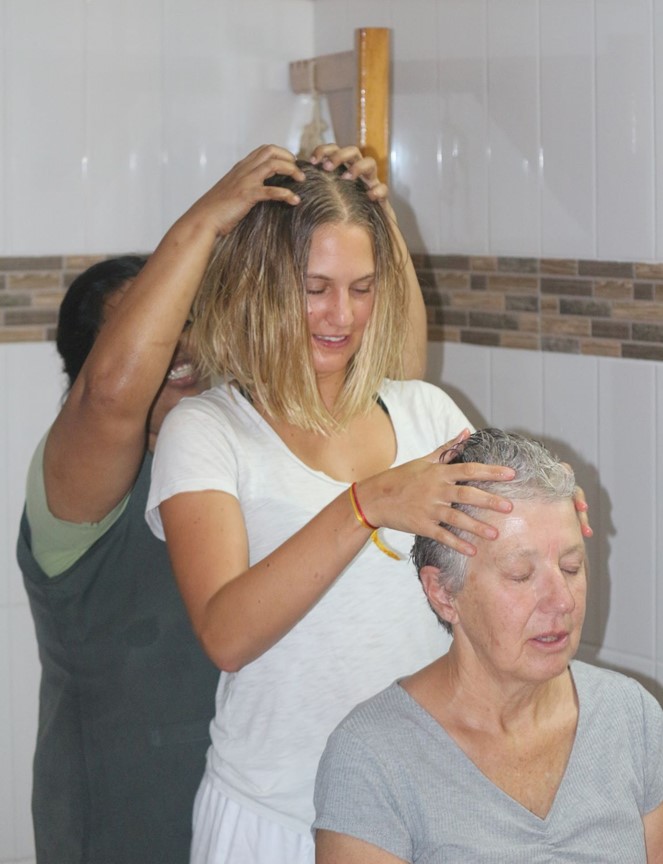 | | |
| --- | --- |
| 5.20am | Wake Up Bell |
| 6am | Morning Satsang |
| 8am | Yoga Class |
| 10am | Breakfast |
| 10.30am | Karma Yoga |
| 11am | Theory Lecture 1 |
| 12.30am | Theory Lecture 2 |
| 1.30pm | Break |
| 2.30pm | Practical Session |
| 6pm | Dinner |
| 6.30pm | Free Time |
| 8pm | Evening Satsang |
| 8.30pm | Lights Out |
Attendance of the entire daily schedule is mandatory. Tourist and educational trips will be organised on Fridays to explore local culture and tourist destinations.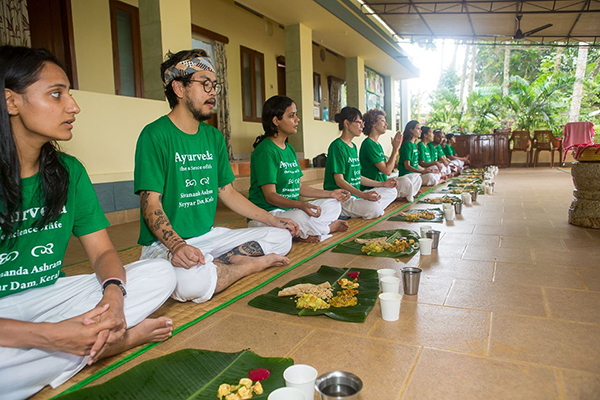 Two sets of uniform and a text book are provided as a part of the course material and are included in the course fee.
Things to bring – comfortable clothes, sandals, toiletries, personal items, meditation shawl for cool evenings, yoga asana mat, meditation cushion, notebooks, pens, towels, water bottle and torch. You can also purchase these items at the ashram boutique.
Guests should be familiar with the Ashram Rules & Guidelines before their arrival.
Simple Indian vegetarian meals are provided at 10am and 6pm.
Refund policy:

For cancelling the registration before the start of the course, the original payment will be refunded less

Rs 2,000 for Indians (dorm registration)
Rs 10,000 for Foreigners (all accommodations) and Indians (room registrations)
Once the course starts, if the student decides to leave within three days, the original payment will be refunded less

23% for Indians
25% for Foreigners

After three days of the course, no refund will be issued.
Students leaving the course before completion are required to return all teaching materials and uniforms.
The Ashram offers five simple and functional types of accommodation. There are no single rooms.
Vaikuntam Rooms: Shared AC twin rooms with private bathroom (hot water), kettle and fridge
Kailash Rooms: Shared non-AC twin rooms with private bathroom (hot water)
Vishnu Rooms: Shared non-AC twin rooms with common bathrooms (cold water only)
Dormitory: separate for men and women. Dormitories contain up to 32 beds with two-bedded cubicles. Limited solar heated water is available.
Tent space: You are requested to bring your own tent, mattress, bed sheet and pillow. Shared tent area bathrooms are with cold water only.
Please note: Couples are not permitted to share twin rooms during the Teachers' Training Course, the Advanced Teachers' Training Course, and the Sadhana Intensive Course.
For all accommodation a mosquito net is provided.