Yoga & Ayurveda Retreats
Leave behind the restrictions of our testing times. Re-energise and empower yourself with the Sivananda Dhanwantari Ashram Healing Retreats. A perfect blend of Yoga, Ayurveda & Meditation to relax, restore and revitalize. Ancient wisdom for modern challenges. Find serenity in a sacred space of healing, nature and spiritual harmony.
Reconnect with yourself.
Bhagavad Geeta Chanting Retreat
7 Days of Bhakti, Yoga & Meditation
The Bhagavad Geeta is found in many households in India. As an integral part of daily sadhana it was traditional to start the day with chanting "The Song of God". Being able chant the text comfortably and with confidence allows us to move through our sadhana without fear. This course will teach the correct pronunciation and correct rhythm (chhanda) to saadhakas to allow us to fully enjoy the text.
The Bhagavad Geeta presents a synthesis of ideas about dharma, theistic bhakti and the yogic ideals of moksha. The text covers Jñāna, Bhakti, Karma, and Rāja yogas. Hence, it natually tunes the mind towards the divine and keeps the mind from getting disturbed during the day. It is said that one should chant one chapter daily as an offering to the Lord.
Join us for this sublime retreat, living the essence of the four paths of yoga in a traditional ashram setting.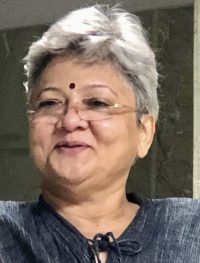 Pragna Shah completed her BA English and retired from banking profession. She pursued yogic studies at Kaivalyadham and Sivananda Yoga Vedanta Centre. She is a qualified yoga teacher. She is also actively involved in promoting holistic health (Medico Media) uplifting the lower strata of society (Namaste Life) and study of Bhagavad Gita and Vedanta texts.